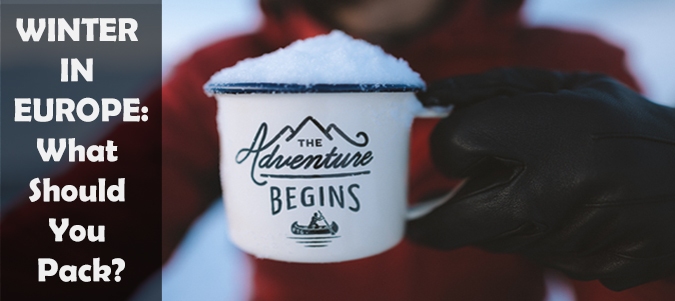 Winters in Europe can vary between a mildly cold weather to an extreme harsh below zero climate. In all cases, you should be prepared, and by that we mean pack just the right items to take along on your trip. All you need is a good guide of what should be packed from clothing, accessories and some additional items. To make it easier on you, carsirent.com has compiled the perfect list of what is recommended for you to include in your luggage. Use this list as your checklist  and avoid the "What should I pack for Europe winter" confusion!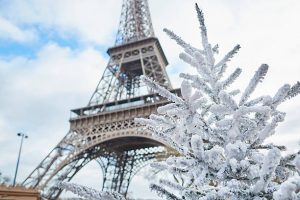 The Right Clothing – What should I pack for Europe Winter?
The Outfit
Staying warm and comfortable is the most important thing to account for when deciding on what clothing to pack for a winter vacation in Europe. Think Layers and layers of long sleeve clothing on top of each other. Because Europe winters are unpredictable and can vary from one day to the other, dressed in several layers will allow you to control your temperature with the option of keeping all layers or removal of a few if needed.
Your outfit selection should include a warm long sleeve base layer that will protect you from the harsh cold. Synthetic base layers are highly recommended for colder areas or if you are travelling for an adventurous experience which could include some outdoor sports.
A selection of winter tights, pants, sweats or jeans are your best choice for walking around Europe's glamorous cities. Complimentary cotton and wool sweaters under your top coat would be your best options of clothing to pack along.
It would also be advisable to pack some turtle necks to have your neck properly protected from those cold winds, unless you are planning to accessorize with using a scarf. The temperature can get pretty low and you'll find yourself dressed with both a turtle neck and a scarf together!
The Coat
Since winters in Europe are not quite predictable, choosing the right winter coat is essential. For snowy countries, opt for your super warm coat that will protect you from extreme cold weathers. For rainy areas in Europe, go for a good water proof jacket with an attached hoodie to avoid the hassle of carrying around an umbrella. One of those on top of your chosen layers of clothing will do the job! The nights can get quite cold, and if you are planning a fancy dinner or a night out, a nice long and thick coat with the right hat, scarf and gloves will keep you warm enough to get there.
The Shoes
We all know Europe is very enjoyable by foot and the right pair of shoes or boots, with some warm thick socks are a must. Again you must think comfort and warmth! Make sure you pack a water resistant pair for those heavy rainy days and some good winter boots for the cold days. Leather boots are also a must take for those lucky days of no rain. Snow boots to avoid some awful falls would be your best choice for snowy countries with icy streets. To our women readers, skip the heels! The beautiful cities of Europe should be walked, in the day at least, and you would not want to miss out on that opportunity. Save the heels for your nights out if you are driving to your destination or if you are planning a cab ride.
Shop for fashionable comfy winter clothing and accessories from loved brands such as Zara, Mango, and H&M. For snow gear and sporty items go for brand such as The North Face.
The Handy Accessories – What should I pack for Europe Winter?
The Scarf, Hat and Gloves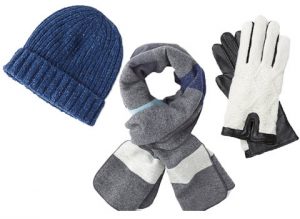 It goes without saying that when travelling to winter destinations a scarf, a hat, and a pair of gloves should be on your list of what to pack. Not only do they add to your fashion statement but they will become very handy at some moments while you are walking around and exploring Europe's beauty. Additionally, if you are travelling to Northern Europe, include a pair of ear muffs for extra protection. Your scarf should be thick enough to keep your neck safe from cold wind. Do not forget that you will most likely need a handy heavy duty umbrella carried around with you if your rain coat does not include a hat.
The Backpack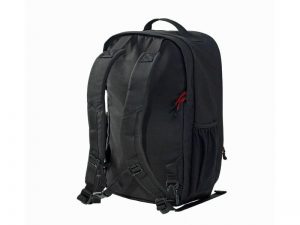 To travel in winter and especially to Europe, you will find yourself carrying around plenty of items and extra clothing due to not knowing how cold the day will get which might cause quite an inconvenience. So a waterproof good sized backpack is  highly advisable for putting away the unneeded extra clothing and any additional items you thought you would need. It is very common in Europe for you to be running around in heavy rain at one point of the day, then suddenly finding yourself under a lovely sunshine. This is where your backpack will get very handy and you'll thank yourself for not choosing to carry around a small handbag instead. Pick- pocketing is something to watch out for in Europe so make sure you have your eye on your bag at all times.
The Extras
What to pack for winter in Europe other than all the above listed essential items?
Don't forget that some areas in Europe can get pretty dry in the winter therefore make sure you include in your bag a body moisturizer, a hand lotion as well as lip cream or chap stick.
Even though winters in Europe are more likely rainy and cold, you might find yourself under plenty of gorgeous sunshine , so make sure your sunglasses are with you at all times.
The Positive Attitude – What should I pack for Europe Winter?
While rainy and cold days can get some people down sometimes, a positive attitude will come as our first and most important element on our packing list. Having that will keep you uplifted and ready to enjoy your trip regardless of the weather condition.
As mentioned before European winters can be tricky and getting yourself equipped with the right items will guarantee you a pleasant experience. So What should I pack for Europe Winter shouldn't now be such a difficult task. Europe has some of the most beautiful and fascinating countries in the world which is why well equipped travelers will make the most of their trip and enjoy every moment. Choose a rent a car from carsirent.com to travel around Europe and enjoy fascinating scenery while road tripping.
Checkout our previous posts on some of the recommended things you should do in certain European countries such as THE BEST CITIES TO VISIT IN PORTUGAL, 10 SPECIAL THINGS TO DO IN PARIS, and 10 BEST PLACES TO EAT IN ROME. Other useful posts available with some car rental tips such as RENTING A CAR IN SPAIN, and WHAT IS NEEDED TO RENT A CAR?
Enjoy your trip!