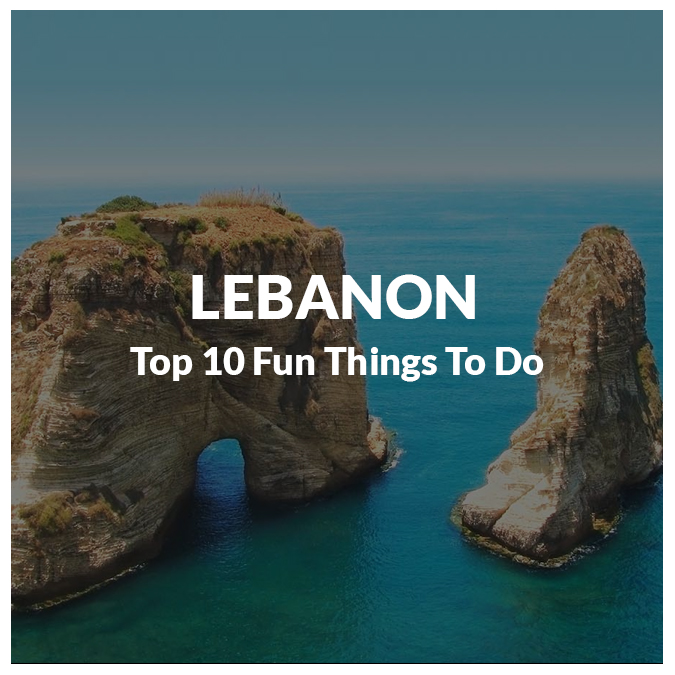 Home to a well-known national cuisine, a string of stunning beach resorts along with the most dazzling city Beirut. Furthermore, it is blessed with magnificent mountain views, royal ancient ruins and a people who are tough, determined and famous for their friendliness. Hence, here's showing you the Top 10 Fun Things to Do in Lebanon. Don't miss it.
Top 10 Fun Things to Do in Lebanon
10. Byblos, Jeita Grotto and Harissa Day tour
This Byblos, Jeita Grotto and Harissa Day Trip from Beirut reveals the best of Lebanon's most enthralling cities. This ideal for the first-time visitors, history lovers and travelers interested in learning more about the olden cities of the world. Furthermore, some 24 consecutive civilizations in Harissa have made it one of the top archaeological sites in the country.
In addition, get a close look at the spectacular caves of Jeita Grotto. This tour also includes a stop in Byblos—widely recognized as one of the oldest cities in the world. Therefore, enjoying every minute of this historical adventure with your expert local guide surely makes it to Top 10 Fun Things to Do in Lebanon.
9. Pigeon Rocks Tour
A spectacular set of rocks welcome you to the city of Beirut. Pigeons' Rock which is also known as the Rock of Raouché is placed at Beirut's western-most tip, the two huge rock creations stand like massive lookouts to the city.
Locals and tourists love to walk along the corniche which is the seaside walkway at any time of day, but during sunset, it is especially busy. Be sure to go early and stroll the Corniche, before finding your perfect spot for viewing the spectacular sunset. With all that this spot offers the tourists this surely becomes one of Top 10 Fun Things to Do in Lebanon.
8. National Museum of Beirut
It locates on the former Green Line, this is Beirut's chief cultural institution and is a vital stop for all visitors to the city. It's remarkable, admirably demonstrated a collection of archaeological artifacts offers a great overview of Lebanon's history and the civilizations that made their home here and also including itself in the Top 10 Fun Things to Do in Lebanon.
Highlights include the famous, much-photographed Phoenician gilded bronze figurines found buried near the Obelisk Temple at Byblos, and a moving group of Phoenician marble statues of baby boys (from Echmoun, 6th century BC).
7. Mohammad al-Amin Mosque

 
The sky-blue dome and towering minarets of Beirut's Mohammad al-Amin mosque, which opened on Friday, are potent symbols of Lebanon's raging recent past.
The mosque financed by Rafik al-Hariri and built with stone from Saudi Arabia stands next to the grave of the former prime minister, whose 2005 assassination pitched Lebanon into three years of political crisis and sectarian strife.
The attractive painting and embellishment (ornamentation, calligraphy, patina, stone and wood imitations) were done by artist Harout Bastajian, owner and founder of The Art of Mosques, in 2005 hence making it to Top 10 Fun Things to Do in Lebanon.
6. Mim Museum – Mineral Museum
The Mim museum is a real treat and the density of great mineral varieties is yet to be repetitive anywhere in the world. A great display with many minerals that are best of species will astonish even the most knowledgeable mineral collector.
The country itself is one that never fails to wonder you. The paradox between new hotels and apartment blocks against the still remaining ruins of the years of civil war are and on the other side, this country has an amazing history and a few hours north of Beirut in Baalbek the most amazing ruins that you should visit. The history of settlement dates back almost 9,000 years.
5. Byblos Castle
Byblos Castle was built by the Crusaders in the 12th century from limestone and the remains of Roman structures. The structure surrounds itself by a ditch. It belonged to the Genoese Embriaco family, whose associates were the Lords of Gibelet (as Byblos was called during Middle Ages).
Furthermore, Saladin captured the town and castle in 1188 and dismantled the walls in 1190. Later, the Crusaders recollected Byblos and rebuilt the fortifications of the castle in 1197.
Near it stands a few Egyptian temples, the Phoenician Royal Necropolis and a Roman amphitheater which is why it makes to the Top 10 Fun Things To Do In Lebanon.
4. Baatara Gorge Waterfall

 
Nature displays its various wonders in most unexpected creations throughout the globe. The Baatara Gorge Waterfall is a formation which reinvents this famous truth again.
Moreover, this unusual waterfall, which is mainly visible during the ice melting months of March and April, is in the Balaa village which falls in between the Lebanese cities called Laqlouq and Tannourine. The location of the Baatara Gorge Waterfall is generally popular amongst the local people as the "Three Bridge Chasm". As a conclusion, this surely is one of the Top 10 Fun Things To Do In Lebanon.
3. Bekaa Valley
The village has a mixture of vegetable farms, wineries, and ancient ruins. That cover the valley like a multicolored carpet, the plains of Bekaa are rich with history and culture. It settles between the Mount Lebanon and Anti-Lebanon ranges, the valley is a natural alleyway between northern Syria and Palestine, a route once visited by caravans and invaders alike.
Furthermore, the Bekaa Valley is today the widest and most abundant agricultural area in Lebanon, and the inroads are habitually held up by tractors and farmers steering flocks of grazing sheep and goats on the roadside. Furthermore, we recommend you to keep a camera ready to capture the amazing and accidental sights that await you.
2.  Taanayel Walk
This is nothing but a piece of heaven on earth. It has a special and exclusive attraction irrespective of the time or season you visit it. Moreover, feel free to read on if you too like to spend a cherished day at Taanayel Forest and Lake.
In addition, create your own family memories while engaging in a variety of fun activities. The Magic of Nature, the fresh air, and the Landscape views which will take your breath away.
Taanayel is a self-actualized place. As a result of which, it has its own recycling factory which provides job opportunities to many people including physically challenged and refugees. It's also a home to many animals, a farm with a shop that sells what they produce. Hence, this beautiful spot is surely one of the Top 10 Fun Things To Do In Lebanon.
1. Afqa Waterfall
Famous for its colossal Grotto, Afqa is a rectangular-prism-shaped breach within a 200-meter-high cliffside. From a distance, the cave appears like a mouth opening in the face of a giant moss-covered boulder.
Moreover, the cave's mouth bursts forth with an overflowing waterfall that feeds into Nahr Ibrahim and fuses with Lake Yammoune.
There are two cafes on the terrace of an ancient Roman bridge at the site, which props up by modern engineering. As it retains its original stonework and holds up the modern-day road. Have a pot of delicious Arabic coffee. Furthermore, listen to the rushing waterfall in the serene, plunge pool the cafes overlook.  Visiting the place will give you the reason why it includes itself in the Top 10 Fun Things To Do In Lebanon.
 
If you're planning a trip to Lebanon soon, make sure to check our competitive rates for car rentals worldwide. Enter your details below, compare, choose and book!