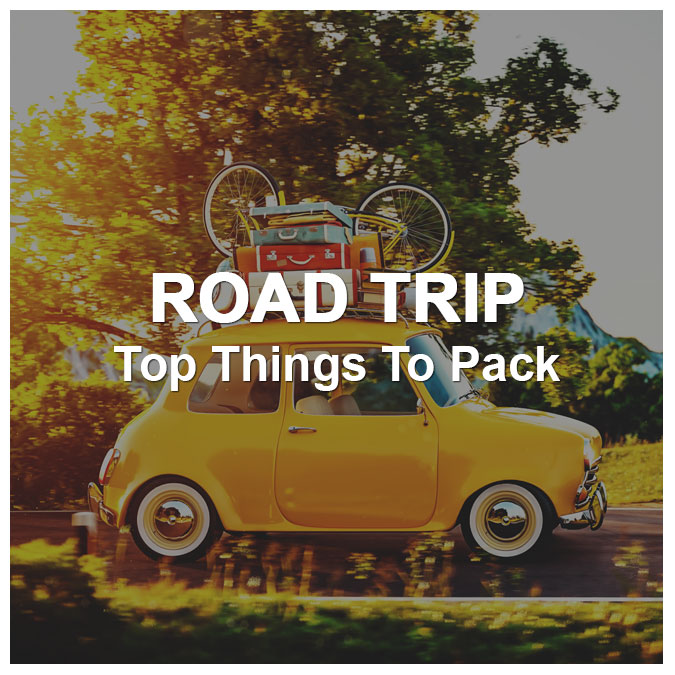 Road trips are lots of fun! But no trip can be enjoyable enough without the right things brought along for the journey. Here is an essential list of things to pack for a road trip.
Things to Pack for a Road Trip
1- For Safety & Precaution
The most important items that top the list of things to pack for a road trip would be a first aid kit and an emergency road assistance kit. These two kits are essential. In case someone has a small injury or if the car breaks down and needs a quick fix while on the road.

2- For Staying on Track
A good map could be all you need for this purpose. But with today's technology, you can opt for an updated navigation system that will guide you easily through your journey. Of course, this is only needed if your mobile phone has no internet connection to connect to navigation apps such as google maps or Waze. Make sure you pack a car charger if you plan on relying on those.
3- For Some Fun
When you've been on the road for some time, you might find yourself in need of some entertainment. Some good music that will get everyone singing along could do the trick. But some group games can be considered as well to entertain the whole family.
4- For Snacking
It goes without saying that you must save some place in that car for the snacks and beverages you will take along. A small ice cooler for some fresh refreshments and water as well as a good stash of snacks. Opt for healthy snacks such as nuts and dried fruits to avoid any tummy aches along the way.
5- For Staying Fresh
Make sure you are dressed in comfortable loose clothes for the ride and have the same packed for changing. Your trip may allow you to stop at a motel for some rest, so you'll know what you need to pack in regards to toiletries, clothes and other essentials. Do not forget your sunglasses and night glasses as these are very important as things to pack for a road trip. Non the less, tissues and hand sanitizer will be found very much useful.

6- For Passing Borders and Spending
You will need all your car documents ready at any time you will be passing a border. This includes your car license, driving license, car insurance and your passports. In addition to your important documents keep enough cash money with you for the journey.
7- For Comfort and Staying Warm
Keep some space for a few blankets and pillows in case you are traveling in a cold weather and in the case one of the riders needs a nap. If driving for long distances and during the night it would be advised to take turns in driving and in resting.
Now that we have you prepared with this essential list of things you need for a road trip, all you need now is to book the perfect vehicle. Log on to www.carsirent.com for the most competitive Car Rental deals in more than 45,000 locations around the world.
If you're planning a road trip soon, make sure to check our competitive rates for car rentals worldwide. Enter your details below, compare, choose and book!
Your may also check these articles for a better car rental experience: