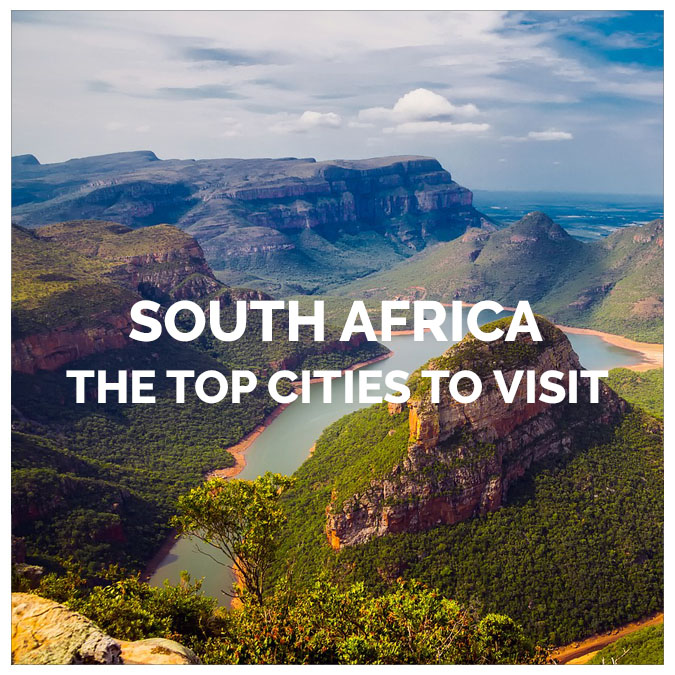 No country in the world is as diverse as South Africa. For an incredible and an unforgettable travel experience make sure you plan a trip there soon. This African land has so much to offer from Safaris, to adventures to beautiful sandy beaches. Which is why we have listed for you the top cities to visit in South Africa.
The Top Cities to Visit in South Africa
1- Cape town
First and most important place to start your trip in is the amazing Cape Town. Known for its Table Mountain National Park, this city remains one of the most beautiful cities of the world. Being there is an experience rich in culture and history while enjoying fascinating landscapes. Top sites in Cape Town include the Kirstenbosch National Botanical Garden, Boulders Penguin Colony, District Six Museum, Cape of Good Hope and many more. The party scene in Long Street, Cape town is also worthwhile including in your plans.
2- Garden Route
High on the must-see places for visitors to South Africa is Garden Route. The reasons are many but by far the ultimate reason would be its glorious natural beauty. The wildlife and outdoor activities you can experience there are remarkable. Make sure to visit the Tenikwa Wildlife Awareness Centre, Lanwood Snake Sanctuary, Wilderness Beach, and the Addo Elephant National Park. Garden Route is also the home to the much loved town of Knysna.
3- Johannesburg
Johannesburg also known as Joburg is South Africa's fourth largest  city and surely worth giving it up to 2 or 3 days of your visit. One of the city's most astonishing beauty lies at the Botanical Garden. Additionally, The Gold Reef City is much worth visiting, where you can enjoy thrilling rides and a tour of the underground mine. Johannesburg is known to have the best weather in the world and has a great reputation for its welcoming and friendly people.
4- Durban
Durban is the ultimate holiday destination because the weather is always nice and sunny. Its beautiful sandy beaches make a perfect addition to your holiday in SA. Durban is also rich with an Indian culture which has made a significant impact on local cuisine and dressing. This makes Durban a vibrant mix of communities where local Zulus, Indians, Blacks, and Whites all live together.
There is so much to be explored in each of the mentioned cities. To make the most out of your trip, find yourself a good car rental deal to move around South Africa from city to city, while enjoying beautiful views and landscapes. At carsirent, you are surely to find great options and facilities.
If you're planning a trip soon, make sure to check our competitive rates for car rentals worldwide. Enter your details below, compare, choose and book!