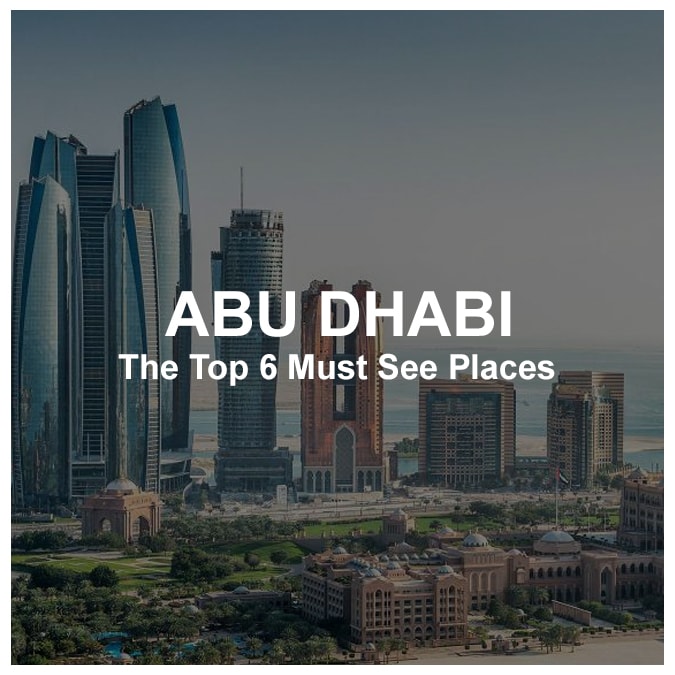 For those looking to head to the gulf for a luxurious vacation, Abu Dhabi, the capital of the UAE, should be your top destination. A guaranteed exceptional and adventure filled holiday. To help you plan and make the most of your stay, here are our recommendations for the 6 must see places in Abu Dhabi.
The Top 6 Must See Places in Abu Dhabi
6- The Emirates Palace
A cultural hub in the city, the Emirates Palace falls under the list of must visit places in Abu Dhabi. The Palace is one of the region's biggest hotels and composed of 400 luxury rooms and suites. Additionally, Today home of the Abu Dhabi Film Festival and numerous international concerts and operas. The hotel is a well known cultural landmark, open for touristic visits and not only hotel residents. During your visit to the palace, make sure you have enough time for the Barakat Gallery of fine art from ancient China, Egypt, Africa, Greece and Rome.
5- The Corniche
Abu Dhabi's Corniche is a popular common area enjoyed by all residents and tourists. Moreover, with a stunning view of the city's sky scrapers skyline on the other side of its sandy beaches; an afternoon walk or even a bike ride along its stretch would be one of the fun things to do in Abu Dhabi.
4- Abu Dhabi Falcon Hospital
Falcons play a big role in the Emirate culture and heritage. Furthermore, The Abu Dhabi Falcon Hospital was built solely for the care of Falcons. Learn more about these fascinating species through a guided enjoyable tour of the facility and its treatment rooms. Pose for the perfect souvenir photo with a falcon on your arm, explore the Falcon museum and watch the birds fly in the aviary. A unique and unforgettable experience for the whole family. The Abu Dhabi Falcon Hospital, is definitely on the top 6 must see places in Abu Dhabi.
3- Abu Dhabi Heritage Village
Looking for the real sense of Arabian heritage? One of the top experiences in Abu Dhabi is to visit its Heritage Village. A spot in which you will enjoy a museum, a souq, a mosque, craftsmen at work and much more. As a matter of fact, all tourists will get to experience the traditional Bedouin life of the Gulf. An opportunity to understand how the Emiratis lived before the oil era which has lead them to the modern and contemporary lives they live today.
2- Ferrari World Abu Dhabi
The first Ferrari branded theme park is another of the must see places in Abu Dhabi. No doubt anyone would find this experience as the most thrilling one, especially if the Formula Rossa roller coaster is on the agenda. A 240km/h in 4.9 seconds ride which will make you feel the true Formula One speed sensation. In addition to the thrill rides, the park hosts live entertainment shows, a car exhibition area and a special 4D adventure.  https://ferrariworldabudhabi.com/
1- Sheikh Zayed Mosque
Finally, your trip to Abu Dhabi would not be complete without the visit to the Sheikh Zayed Mosque. A breath taking masterpiece of modern Islamic architecture. Infact, While this mosque is one of the largest in the world, it can accommodate no less than 40,000 worshippers at prayer times. Moreover, with its vast gardens and majestic walls, this landmark tops our selection of must see places in Abu Dhabi. For more information on accessibility times please visit the website: http://www.szgmc.ae
If you have any thing to add, leave a comment in the box below! شكراً 🙂
Afterwards, If you are heading to Abu Dhabi soon, you've got to use our 33% off on all cars! Book Now and Save