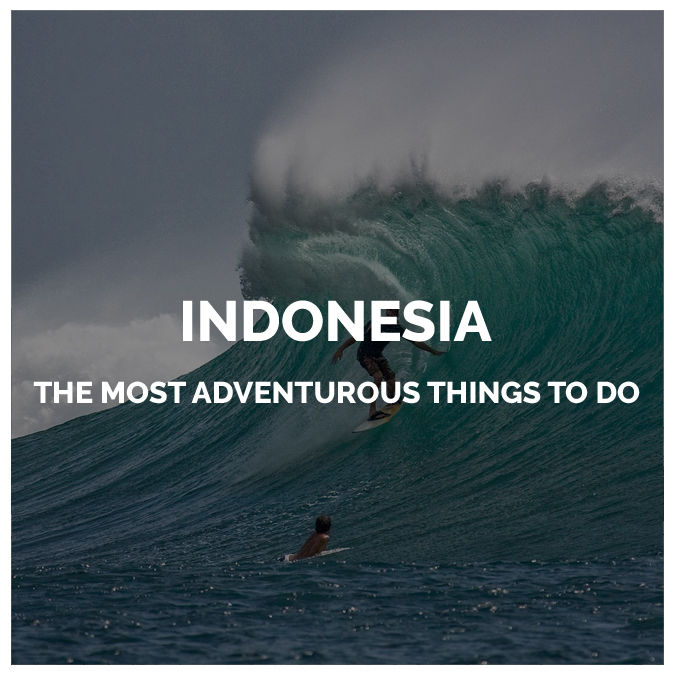 Indonesia is one of the most exciting and beautiful places to travel to. As Bali has earned its reputation for being one of the most wonderful islands in the world, Indonesia has a lot more than just Bali to offer. For those of you who love adventure, you have picked the perfect destination to spend a fun holiday. Here is our list of the most adventurous things to do in Indonesia.
Diving in Indonesia
Home to 20% of the world's coral reefs, this underwater haven is every diver's dream. With dive sites like Raja Ampat, Togian Islands, Komodo, and Flores Island being some of the best in the world, there is so much underwater life to explore. Diving in Komodo National Park is one of the best dives to enjoy. Look for a good diving center and book in advance to ensure a great experience.
Trekking the Jungles of Sumatra
Another recommendation off our list of the most adventurous things to do in Indonesia would be trekking through the lush jungles of Sumatra. You can opt to spending 2 to 3 days in the jungle while you enjoy some fantastic trekking in the day and then falling asleep while listening to nature's beautiful sounds. Some of the treks are relatively easy, but a lot of it would require good physical skill and experience. Get ready to witness the jungle's most spectacular wildlife and meeting the old orange king.
Surfing Indonesia's Wav
es
The list of where to surf in Indonesia can go on and on. Indonesia must be the surfing capital of Asia. Whether looking for waves for beginners or advanced surfers, everyone will find what they're looking for. The best surfing spots include Batu Karas in Java, Lombok, Uluwatu, Kuta, Seminyak, Sanur, and Canggu. If your vacation will be mostly spent in Bali, then you will also find the greatest surfing spots there.
Sunrise over Mount Bromo
What also tops our list of the most adventurous things to do in Indonesia is climbing the Mount Bromo for the most beautiful sunrise. A truly spectacular sight, that you should definitely include in your travel plans.  An adventurous hike starting from 3am to reach the perfect spot on Mount Bromo. You can either book through an agency or do it on your own.
Watch a Dragon Eat in Komodo
When planning a trip to Indonesia, do not miss the chance to watch the largest lizard on the planet – or more known as the Komodo dragon. This large amphibian grows up to 3m in length, and can weigh up to 100 kilos.
Komodo Dragons  hunt both on land and in the water, but quickly get tired. A great addition to your trip would be to witness one of those hunted meals. The best time of year to see the dragons most active is December and January.
Snorkel the Gili Islands
If you don't scuba dive, you also can snorkel your way around Indonesia. The best island to do some good snorkeling would be in the Gili Islands. Snorkeling in Bali is also very well known, but the beaches there can get very crowded. The Gili Islands in Lombok would be a great option for you to enjoy amazing snorkeling.
We at Carsirent  love to offer you the best advise on where to plan your holidays all year long. Stay tuned for more and more travel articles.
If you're planning your next trip, fill in the below box with your trip details and find your perfect car now!