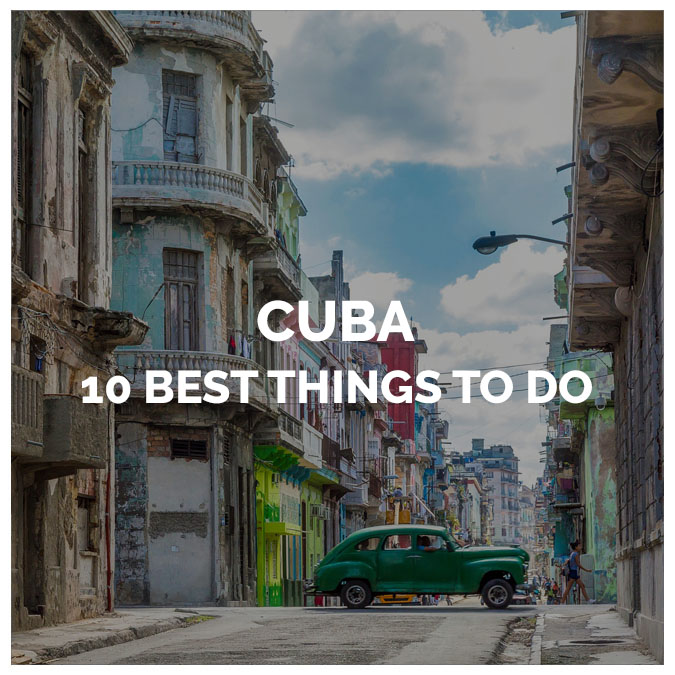 Plenty of white sand beaches, small colorful towns, striking architecture, and the best cigars in the world are all found in the lovely country of Cuba. As a matter of fact, Cuba falls on practically any bucket list created, including ours. This country is a must visit;  here is your list of the 10 Best Things to Do in Havana Cuba.
The 10 Best Things to Do in Havana, Cuba
1. Spend a day at the Playas del Estes
You cannot visit Cuba, without visiting its white beaches. The stunning beaches of Havana are located 30 minutes away by bus. This 5-mile stretch of shoreline starts at Bacuranao and ends at Playa Jibacoa, with about six other stunning beaches with turquoise colored water in between.
2- Get Lost in Cento Habana
Cento Habana is one of the most fascinating neighborhoods in Havana that you can let yourself wonder in for hours. As  it is considered the most colorful district, it is where you'll feel most in touch with the local feel as you listen to the salsa music and smell the local cuisine flavor all through out the streets.
3- Walk along the Malecon
Havana is at the sea, and one of the best places to enjoy a beautiful walk ia a sea wall known as the Malecon, that runs the length of the city. An 8 km long walk that you can enjoy with several stops as you please, arriving to La Rampa in the Vedado neighborhood, a nightlife area that will spice up your night.
4- Ride a Vintage Car
One of the results of Cuba's lasting communist government was the inability to import new cars, so you'll see cars from the 1950s all over the city. As a matter of fact, you will get the chance to go around the city in history's most amazing rides.
5- Tour a Cigar Factory
The best cigars of the world are known to origin from Cuba. Even if you are not a smoker, watching the process adds a great flavor to your trip and gives you a sense of real Cuban culture. Find your factory and book in advance.
6- Eat at a Paladar
Paladars are found all over the city. One of the best experiences to go through in Havana is to eat in one of those traditional restaurants. Since they're typically quite small, you will need to reserve in advance. Otherwise you will have to wait in the cue, but do not worry, the wait will be worthwhile. The owners will most likely treat you to a rum and a cigar while waiting. A Paladar is definitely at the top of our list of 10 best things to do in Havana, Cuba.
7- Visit the Sites
A few famous sites in Havana are a must see. For example, The Plaza de la Revolución, where you'll see the Jose Marti monument and the giant face of Che Guevara on the wall of the Ministry of the Interior. Another one not to be missed is the Capital Building. Also make sure to check out the Museum of the Revolution, a fascinating building for you to explore and study its history.
8- Enjoy the Salsa Shows
No doubt you will be hearing salsa practically all through your journey and in every Cuban area you visit, but do make sure to book yourself a nice live show at one for the local bars. You can also catch some salsa classes while there.
9- Enjoy the Art
Artists are held in very high regard in Cuba so you will find  several art studios and boutiques of crafty creations throughout the city. If this is something you enjoy, you can take an art tour of the city. Otherwise, you may find shops like Clandestina and Pisoclabis Bazar Café in Old Havana.
10- Catch a Baseball Game
For a unique memorable experience, catch a national Baseball Game. Whether you're a baseball fan or not, it's definitely worth embracing this national tradition, which the Cubans are very passionate about.
Cuba is one of the most interesting countries to visit, so make sure you do soon. We at carsirent, strive to give you the best advise on where to go and what to see. Checkout the best car rental rates by filling the below box with your trip details and clicking SEARCH NOW!