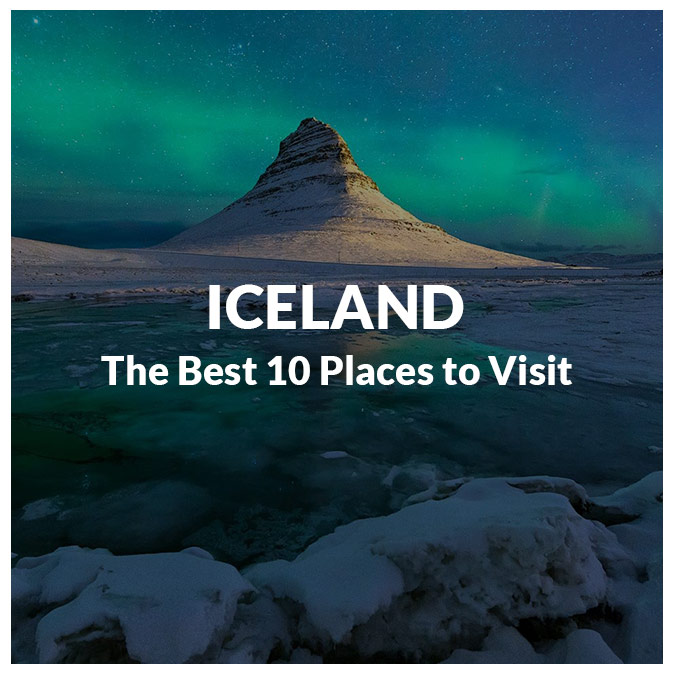 Following our latest post about 2018's bucket list, here is a closer look at our first recommended destination. Iceland, the Scandinavian island of striking landscapes, glaciers, lagoons, ice caves and waterfalls. For those of you who have taken our advise on going there this year, here are the best places to visit in Iceland.
The Best Places to Visit in Iceland
1- The Blue Lagoon
First, as one of Iceland's most visited tourist attractions, the blue lagoon is truly very enchanting. It lies about 40 kms from the capital and between the rocky high hills of the Reykjanes Peninsula. A breathtaking tour that every traveler should experience. The Blue Lagoon is now a Geothermal Spa and is run like most other day spas you find around the world. There is accommodation, as well as saunas, restaurants & cafes, lockers, showers, etc.
2- Gullfoss Waterfall
Second, the majestic Gullfoss Waterfall should be in our list of the best places to visit in Iceland for its marvelous natural beauty. It is known as one of the most spectacular waterfalls of the world. A beautiful rainbow and plumes of mist can be often seen arched over the waterfalls. By summer, the surrounding hills are covered in beautiful green grass that makes a fine setup to plan a good hiking day around the Hvita River.
3- Maelifell Volcano, Myrdalsjökull Glacier Park

Third,Home to one of the most stunning volcanos in the world, the Myrdalsjökull Glacier Park is another must see place in Iceland. During the warm season, the snow melts and leaves a lavish green surface.  However,There is plenty to do and see in the park from volcanoes, hot springs, to other beautiful marvels.
4- Landmannalaugar
On the other hand, the multicolored  mountains, lava fields, and the Hekla volcano make it a perfect touristic destination. The remarkable landscapes will leave you amazed with what nature has to offer. As well as, hiking and horse riding are among the most desired activities there. Landmannalaugar can be visited all year round but it is recommended to go there in summer.
5- Skaftafell Ice Cave, Vatnajökull National Park
Iceland is the land of ice and snow. The Skatafell Ice Cave is one of the country's most overwhelming naturally designed caves. While visiting the glaciers you will be guided into the caves. Find yourself a good guided tour for a guaranteed unforgettable experience. It is best to see the caves in winter, when the ice doesn't melt and is safe to enter.
6- The Aurora Borealis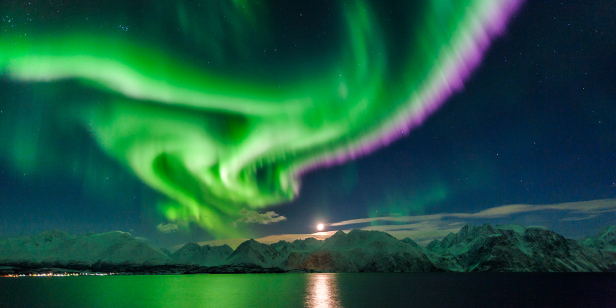 This beautiful natural light collision may be witnessed in several northern countries such as Finland, Norway and Alaska, but  Iceland would be your best call. An Aurora is an incredible light show caused by collisions between electrical particles released from the sun that enter the earth's atmosphere by mixing with gases such as oxygen and nitrogen.  Tick off seeing the Northern Lights from your bucket list by visiting Iceland sometimes between the middle of September to the middle of April.
7- Strokkur 
Strokkur is one of the most popular hot springs in Iceland and belongs to the famous Golden Circle. Also, Strokkur is a fountain geyser in the Geysir geothermal area I the southeast part of the country, east of Reykjavik, near Hvita River. Strokkur is a powerful hot spring and an impressive sight. It erupts about every 4–8 minutes and spouts water to a height of 15 – 20 m, sometimes up to 40 m. Who would not want to view something so magnificent?
8-

Husey in East Iceland
Husey is located between two glacial rivers and surrounded by the mountains of the East.however, this area offers endless opportunities for excursions to discover Iceland's untouched nature. Where you will find 175 species of plants to be discovered with more than 30 species of birds. Visit Husey in mid summer, when you can ride your horse past the grazing reindeer and seals.
9- Hallgrimskirkja
Moreover,Hallgrimskirka is a unique church situated in the middle of Reykjavík. It is the tallest and most recognizable building in the Iceland. The architecture was inspired by the Black Falls, another Icelandic natural wonder. A must see once in the capital. once on top of this church you will be a able to witness a wonderful panorama of the city.
10-

The Volcano Hekla
Mount Hekla is located in the highly active volcanic zone along the south shore and is the most active volcano in Iceland with more than 20 eruptions since 874. Hekla is a popular destination for hikers. The trail leads most of the way to the summit, and takes about 3 to 4 hours to walk. Of course, caution should be taken as the volcano can erupt without a warning, so it's on each person to decide whether they want to take that risk. Surrounding the Hekla area are other interesting places and natural wonders to see, for example Thjorsardalur valley, in which are several beautiful waterfalls and fascinating rock formations. Close by is also the Viking Farm Stong, whose ruins have been dug up after being buried under lava flow of the latest eruption.
Finally,this sums up our recommendation list of the best places to  visit  in Iceland. It is no wonder a destination on everyone's bucket list, as it will leave you in awe after witnessing what mother nature can do.
Been there before? What was your favorite place to visit in Iceland?
check out our services which are:  car rental, Chauffeur drive and Airport transfer in Iceland through this link:
If you're planning a trip soon, make sure to check our competitive rates for car rentals worldwide. Enter your details below, compare, choose and book!