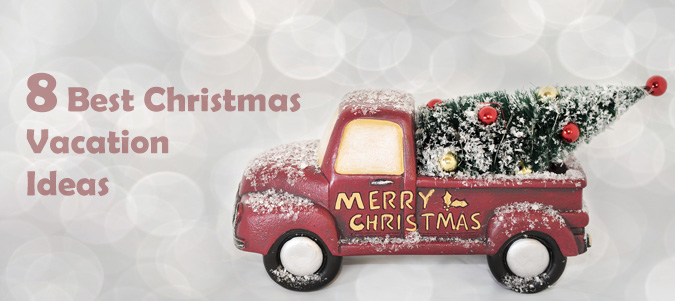 The Christmas holidays are the perfect time for a well planned family vacation. Christmas is a joyful and a magical time of year full of fun, lights, and sparkles. Where to go and what to include in your travel plans may be overwhelming, with all the various choices available out there. Which is why, we have created for you a list of the 8 best Christmas vacation ideas for families which you can consider for your next holiday plans.
1-  New York City, USA
New York city is a lovely place to visit any time of the year, even more worth visiting during the Christmas holidays. Everything around the city turns festive, beautifully decorated and lit with magical lights, indeed a great joy to witness. How can you not enjoy a walk through its lit busy streets while listening to Christmas carols all day long, from corner to corner.
A few of the great things you can enjoy in this festive city during your Christmas vacation are ice skating at Central Park and Bryant Park, the famous Christmas tree lighting show at Rockefeller Center, and many other musical shows that take place all throughout the holidays. New York City kicks off its holiday season from Thanks Giving all through to New Year's Eve with plenty to offer for families and visitors.
2- Disney Land in Florida
Another great place we must include in our list of the 8 Best Christmas Vacation Ideas for Families is no other than Disney Land in Florida. What would be more joyous for the kids than spending it with their favorite Disney characters in the most magical Christmas setting. With joyful music, stunning decorations and magical parades, the family is bound to have an unforgettable experience.
At Disneyland, Mickey's Very Merry Christmas Party, parades, rides and indulging in delicious Christmas treats are just a few of the splendid things you can add to your Christmas holiday.
3- Copenhagen, Denmark
Many would agree that Copenhagen in Denmark scores high when it comes to spending a wonderful holiday season with the family.With snow covered trees and houses, making it a perfect Christmas setting for the perfect family holiday. Copenhagen's famous Tivoli Gardens hosts every year a splendid Christmas market that should not be missed. With lots of fun rides for the kids, beautiful decorations, yummy holiday treats, and Santa Claus roaming around, it is just the right place to be spending the holiday season with your family.
While Tivoli Gardens is a must include place in your Christmas vacation plans, Copenhagen hosts several other markets and activities to be enjoyed throughout the city.
4- London, UK
With the endless variety of Christmas family shows happening all throughout the city during the holiday season, London definitely makes it on our list of "the 8 best Christmas vacation ideas for families". The kids will surely have a blast in festive London with all that is going around during that holiday season, making a perfect Christmas vacation for the family. Every year, kid's Christmas shows are found all over  London. Make sure to book in advance for any show you wish to attend as it can get very busy in London during this festive holiday season.
Hyde Park Winter Wonderland would be one excellent choice to include in your vacation plans. This magical wonderland includes UK's largest outdoor ice rink, great food stalls, amazing rides of all sorts, and a wonderful Christmas market.
5- Paris, France
There are several fantastic ways to spend  the perfect holiday season in Paris, which is why we have included it for you on our list of the 8 best Christmas vacation ideas for families. Paris is stunning all year long, but during Christmas it turns magical. Even though known to be special for a romantic getaway, lots of fun experiences are also available for families and kids making it a great Christmas getaway.
The city's most loved monuments all undergo a transformation and get lit with astonishing lights and decorations. Ice skating rinks and merry-go-rounds along with Christmas markets and parades fill the streets all through the holiday season.
6- Lapland, Finland
Lapland is home to the all favorite Santa Clause Village. No better place to meet Father Christmas other than in Santa Clause Village in Rovaniemi. Dreaming of a white Christmas? You've chosen the perfect destination for a wonderful Snowy Christmas holiday with the family. While the village can be visited all year long and still meet Santa Clause and his crew, it remains extra special when visited during the Christmas holiday. Experience wonderful Lappish traditions while enjoying lots of snow fun activities, good food and great company.
For a guide of what to pack for a cold winter holiday, checkout our previous post on What Should I Pack for Europe Winter. 
7- Honolulu, Hawaii
Not everyone would enjoy to travel to a cold and snowy city, on the contrary many would rather travel to a hot and sunny destination even for Christmas. If you are that kind, then Honolulu in Hawaii would be a great Christmas getaway for you. There, Christmas traditions are celebrated in their own special way and it would be a lovely idea to experience Christmas differently this year.
Honolulu is one of the best places to enjoy the most spectacular Christmas lights. Every evening during the Christmas holiday you can witness a very special Christmas Parade on the Waikiki Trolley. Santa's Beach House is another wonder for the family to experience, making it completely different to where the kids would expect to see Santa. Many more events, bars and street fun are available in Honolulu for you and the family to explore during the holiday season.
8- Lake Louise, Canada
Some of the interesting activities you can enjoy as a family in Lake Louise are ice skating on the lake, skiing, sleigh rides, board game tournaments and evening entertainment around a campfire. One of the best Christmas vacation ideas for families out there. Lake Louise is located in Banff, where you will find the world's most breathtaking views. Every year Banff hosts the best Santa Claus Parade of Lights and a very special Christmas market.
Whether there to relax and enjoy beautiful nature or there to be part of the magical festivities that take place during the holidays, or even for some wonderful winter activities, Banff and Lake Louise would be a great Christmas getaway for any family.
Here you have it, our list of the 8 best Christmas Vacation Ideas for Families. During the holidays in any big city, public transportation can get very busy and sometimes cause you lots of frustration. Avoid that and get yourself the best car hire deal from carsirent.com for easily getting around and making the most of your vacation plans. Make sure to book in advance to guarantee the best deals. That also applies to all the entrance tickets, concert tickets and reservations needed for our proposed Christmas vacation ideas.
Wishing you a Very Merry Christmas and a lovely holiday with your family.