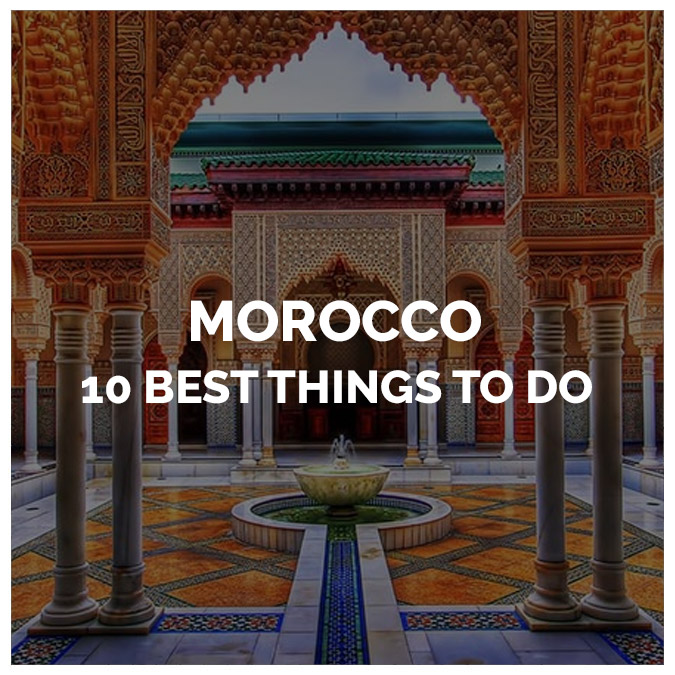 When you've finally decided to make that trip to the beautiful and colorful lands of Morocco, get ready to be amazed with the number of things you can do there. However, you might have to squeeze it all into a 4 to 5 day span which could be quite tough. To make your life easier, here is what we at Carsirent have compiled as the 10 best things to do in Morocco.
The 10 Best Things To Do in Morocco
1- Take a Walk Through the Blue Streets of Chefchaouen
Going to the fascinating town of Chefchaouen will top any  list of things to do in Morocco. Situated a little outside the city, but the trip there is definitely worthwhile. The streets and most of the buildings in the old part of town  are painted a most brilliant sky blue. It's a wonderful place to enjoy a walk, shop, and sit down for a cup of mint tea.
2- Explore the Fez Medina
One of The 10 Best Things To Do in Morocco is Going to Fez can easily get you lost in its busy narrow streets. Though getting lost may not sound so tempting, but the experience will be fun. This northern Moroccan town is overflowing with fruit and vegetable markets, spice stalls, carpet sellers, and donkeys carrying heavy loads of goods. This Medina is also know for its leather tanneries, a must see view from the top of any of the tiny shops around.
3- Go Camel Trekking in the Sahara Desert
The highlight to most of the travelers' to Morocco is going camel trekking and spending a night in the captivating Sahara Desert. Spending sometime there, you'll be welcomed with the warm hospitality of the local Berber people and served delicious traditional food. An exceptional experience which will include an interesting camel ride, fascinating night star gazing, and a wonderful opportunity of mingling with the locals.
4- Enjoy a Nice Dinner at the Djemma el Fna
The Djemma el Fna is really the heart of Marrakech. It is a large central square in the old city, which turns into an entertainment hub at night. Snake charming, juggling, and music are just a few things of what you will experience there. The perfect way to spend an evening while having a delicious traditional Moroccan meal.
5- Visit The Majorelle Gardens
The Majorelle Gardens definitely fall in our list of the top 10 best things to do in Morocco. These Botanical Gardens in Marrakech are filled with must see rare plants which create a serenity like you've never experienced before.  They are situated northwest of the Medina of Marrakech, about a 30-minute walk. One of its sections, the Majorelle Gardens, were designed by a French painter Jacques Majorelle in 1919. In 1980, Pierre Bergé and Yves Saint Laurent repurchased the gardens and faithfully restored them. It is known that Yves Saint Laurent's ashes were scattered in the Majorelle Gardens.
6- Relax at the Essaouira Seaside
A 2 hour drive from Marrakesh and an opportunity to escape the cities loud and busy lifestyle. Spending a day by the Essaouira will add a charming touch to your vacation in Morocco. Relax by the beautiful seaside, learn about its fascinating history and enjoy the freshest and tastiest seafood in Moocco. Essaouira has attracted both artists and musicians throughout the years, and the city is now a  vibrant mix of artisan stalls, and cafes where live music plays all night.
7- Take a Moroccan Cooking Class
Why not impress your guests after returning from your vacation with a perfect Moroccan dish. A trip to Morocco isn't complete without a cooking class. Learning  the Moroccan cuisine is a highlight of any visit to the country. Whether you want to perfect the art of making couscous or authentic tagines, there are plenty of cooking classes around the major cities where you can do just that.
8- Stay at a Traditional Riad
Riads are traditional homes is one of The 10 Best Things To Do in Morocco that got converted into hotels. We highly recommend to stay in one during your stay. Most Riads are situated in Fes and Marrakech, so you will be right in the heart of the city. The Riads' interior are simply beautiful made of tiled masterpieces of architecture. Most will have a fountain in the center of a courtyard, with the rooms built on two levels. A great chance to feel the Moroccan culture and avoid going for a regular hotel experience.
9- Trekking through the High Atlas Mountains
Also, one of The 10 Best Things To Do in Morocco is going to The Atlas Mountains stretch over 1500 miles, from Morocco's West Coast to Tunisia. Home to North Africa's highest peak, Jebel Toubkal. Most visitors who wish to Trek start from Imlil, an hour drive from Marrakech. Plan your trip during April or May. The trip will include going through the Ourika Valley slopes by the Ourika river, resulting in beautiful views from small Berber villages. It's also possible to to  visit to the magnificent Ksar Ait Ben Haddou.
10- Get Yourself a Traditional Hammam
Moreover,The hammam is a public steam bath in Morocco. Hammams were the only place people could come to bathe and scrub, when a private bathroom in a house was still a luxury. Get a good scrub at a local hammam after all  you did while travelling Morocco. A perfect way to end your amazing vacation.  There are upscale hammams in riads and luxury hotels that offer more Western style massages but choose a local tradition hammam for the real taste of tradition.
Finally, This concludes our list of the 10 best things to do in Morocco, even though it can still go on and on. For a more productive and fruitful stay, renting a car will be a great idea. Log on to www.carsirent.com  for the best deals on car rentals all around the world.
 
If you're planning a trip soon, make sure to check our competitive rates for car rentals worldwide. Enter your details below, compare, choose and book!