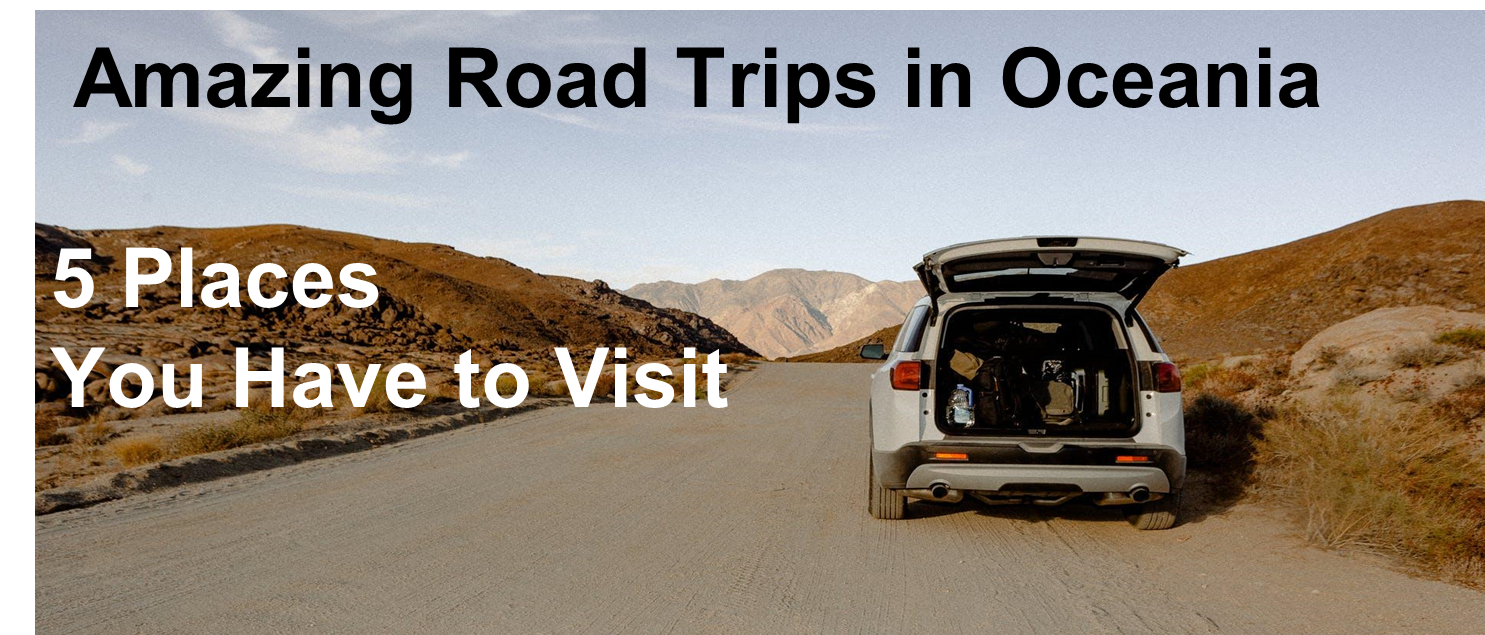 Amazing Road Trips in Oceania:
5 Places You Have to Visit
Very often people forget just how large Australia is. There is this erroneous notion that it's just a relatively large island, but still barely deserving of the title "Continent" that it so rightfully deserves. The truth here is that Australia is, in fact, huge. It's almost 80% the size of the United States and just seems smaller due to how our maps are made and set up.
People only think of the Great Barrier Reef and the Sydney Opera House when they think about Australian tourism. The more cosmopolitan of tourists might even remember that you can find a kangaroo or a koala somewhere in the "Land Down Under". However, there is just so much more.
Tropical rain forests, national parks, waterfalls, and the great Outback  – Australia needs to be seen to be believed. And then that is just Australia – the rest of Oceania is just as beautiful and wild. Polynesia, Melanesia, Micronesia, these bundles of islands are as beautiful as they are unreachable. So, that will be more of a boat ride than an actual road trip, unless you have a hybrid boat car in your garage. Of course, there is always an option to rent a car.  For now, we will stick to Australia, but we do insist you visit these islands as soon as you get the chance.
Western Australia
The best Western Australia road trips start in Perth. You spend a couple of days there, check out all the sites. Pop down by Rottnest island and pet some quokkas or check out Fremantle if you get the chance. Drive further up the coast, and check out the Pinnacles of Nanmbung national park. There you can find downright alien, otherworldly rock and earth formations that seem to point towards the sky.
Further along the way, just drive along the coastline, maybe take a break at a beach and gaze into the Indian Ocean. Your next stop is the Kalbarri National Park, and we warmly suggest you spend a couple of days here. Here you can find breath-taking coastal cliffs, an inland national park, all desert, red rocks, and amazing hiking.
Going further north you will arrive at Shark Bay and Monkey Mia. Here you can see beautiful, clean, crystal clear water and might even see dolphins feeding. Finally, Exmouth WA is a great place to end your trip. Great for snorkeling, or some more extreme activities, like whale shark swimming.
The East Coast
On the opposite end, we suggest you check out the East Coast. First things first – start in Melbourne. A beautiful city filled with culture and art, great food and crazy nightlife, you shouldn't miss out on this place. From there, go to Buderoo, a national park that is southwest of Wollongong. Overflowing with amazing rain forest walks and gorgeous waterfalls and swimming holes, this national park should not be missed.
Then, go 2 hours north and see Nelson Bay. Here you can have fun on the beaches, or go up the mountains. An amazing hiking trail can be found right at the top of Mt Tomaree, with amazing sunset views overlooking beaches and mountains.
You must also not miss out on Byron Bay. A gorgeous town with great beaches, if you are a fan of surfing, you really shouldn't pass this place up. After this one, visit Wallaman Falls, a beautiful 268-meter high waterfall, and then finish up with Port Douglas. From this area, you can finally access the famous Great Barrier Reef, as well as Palm Cove and the Daintree Rainforest.
Tasmania
No Oceania/Australia road trip list can be complete without Tasmania. A rugged, tough place with amazing stretches of land just waiting for you to explore them. So, if you are going to travel to Tasmania, we suggest you start at Hobart. There, spend some time in the Saturday Salamanca Markets, or visit Mt Wellington and Battery Park.
Next, check out the UNESCO World Heritage Site like Port Arthur, at the Tasman Peninsula. Namely, Port Arthur is the best-persevered convict site in the entirety of Australia, full of museums, old buildings, and, of course, stories.
However, you can find more than just history at the Tasmanian peninsula. Check out the amazing geological formations at Fortescue Bay, a great spot for camping and hiking. You can enjoy even more nature if you head further up north, at the Wineglass Bay at Freycinet National Park. This is a gorgeous bay shaped like a wineglass. You can take a cruise, relax, and bask in its beauty.
The Road from Adelaide to Darwin
This 3000-kilometer dive start with the town of Coober Pedy, a little hamlet sitting on top of the largest opal mine in the world. Furthermore, visit the famous Uluru Kata-Tjuta National Park. Visiting Ayers Rock will allow you to check out one of the most amazing and iconic images of Australia, a must-see for any visitor.
Next, you have Kata-Tjuta and Kings Canyon. These are both amazing designations that need to be visited, destinations that you will talk about for years to come. The Devil's Marbles are two fascinating boulders that seem as if they were placed there by a giant.
Finally, we suggest you check out Nitmuluk National Park for some amazing hikes and even better scenery. Then, just drive down to Darwin and finish your journey up.
The Top End
The Top End is one of the lesser-known but still beautiful road trip areas in Australia. First of all, it's pretty easy to reach, since a simple trip from Bali can get you here in just a few hours. Namely, its time you visit the Outback. First, visit Kakadu, an amazing national park just a couple of hours drive away from Darwin. Here you can find the amazing wetlands and thousands of years of Aboriginal history. Then we suggest you check out Litchfield National Park and bask in the glory of Florence, Wangi, and Buley Rockpool – three amazing waterfalls. Finally, check out Katherine Gorge, grab your canoe, and get to paddling!
Conclusion
Driving through all the places we mentioned is going to do wonders for your mind and your soul. You will see beautiful areas, national parks, waterfalls, and great Outback. Furthermore, visiting the great cities of this area will make for great stories once you get home. So, what are you waiting for? Fill up your gas tank, and get a move on!
Now all you need is the perfect ride to get your road trip planned. Log on to carsirent.com for the best car rental packages. In just a few simple steps, compare the best deals from the most reputed rent a car companies out there, and instantly book your favorite.