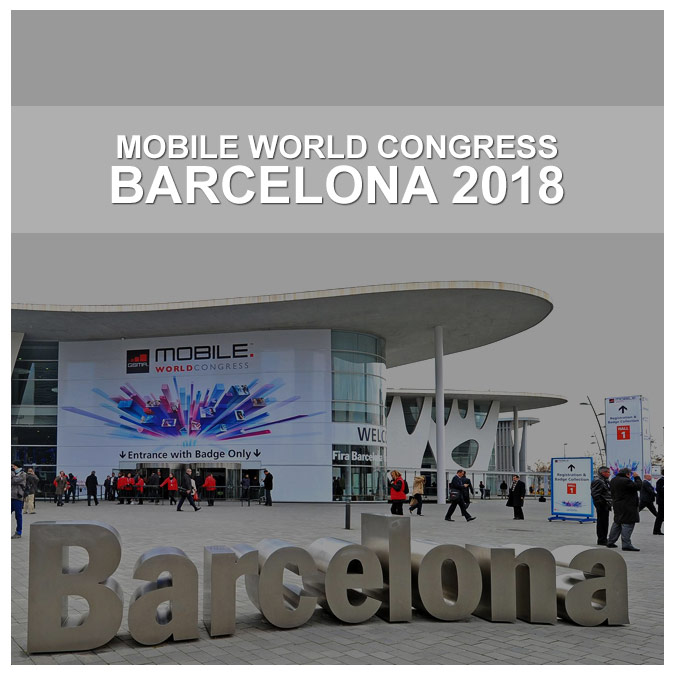 Mobile World Congress Barcelona 2018: It's nearly time for the world's largest annual gathering in the Mobile industry. Mobile World Congress 2018 which will take place in Barcelona. This year from 26th of February to 1st March 2018. As always, the themes for the event promise to be interesting. Pushing the boundaries of what technology is available. What technology will soon be available. And how these impending changes may impact our daily lives.
The Event:
The Mobile World Congress Barcelona 2018 themes. Will vary from The Fourth Industrial Revolution. Which seeks to explore the burgeoning field of automation and what it means as our society becomes increasingly automated. To Future Services Providers, which seeks to discuss what the industry might look like going forward. In particular, how might a manufacturer or developer try to forecast. What changes are coming in the industry, anticipate those changes. And prepare to make the best of the opportunities that these might bring.
Networks:
Of course, the topics at Mobile World Congress Barcelona 2018 will not be limited to this pair of fields. Other fields to explore include Networks, specifically 5g and other increasingly advanced communications networks. And what this means as far as business creation goes. What opportunities and challenges lie ahead as our networks become increasingly capable of carrying more information at faster speeds. Another topic sure to be overflowing with interest revolves around the digital consumer. Specifically, what all of this innovation means. For those businesses that seek to engage their customers. Both current and potential, across digital mediums.
Nearly everyone can agree that wide access to the internet has irrevocably changed. The way customers and businesses interact with one another- for example, only a few short years ago, travelling to a faraway city, for an event such as Mobile World Congress Barcelona 2018, and renting a car would have required a good bit of hassle at a rental shop, but now, though the power of the internet connecting business and consumer, we can simply visit websites, such as CARSiRENT.com, to greatly simplify the process by moving the bulk of the work online.
Tech in Society:
It seems likely, then, that these changes will continue as more businesses emerge, presenting new products and connections to potential customers. Beyond the purely business applications. However, also lies the potential changes to the foundation of society itself. Hence, one of the most exhilarating topics to be discussed. At Mobile World Congress Barcelona 2018 is Tech in Society. Right now, technology has already impacted several aspects of our society, such as transportation, health, education, emergency response, and many more. However, as communications and technology, not to mention automation. Continue to march towards progress, the threat of these tools inadvertently. Becoming dangers rather than helpful advances must be debated.
Artificial Intelligence:
Related to this theme is yet another theme of Mobile World Congress Barcelona 2018. Is the "Applied AI. " AI, or Artificial Intelligence, may seem like the stuff of science fiction, but progress is happening to push us closer and closer to the existence of true AI every day. Of course, the ramifications of this are mind-boggling. Relevant to the prior topic of automation, what will the impact of allowing artificial intelligence to control. So much of our society, and our workforce, mean for humanity as a whole? Then, of course, we must discuss the dangers that lie in the potential abuses of this powerful technology. How do we safeguard ourselves from those that would seek to take such powerful. Tools and warp them to their own. Benefit at the detriment of others?
Perhaps, this will be answered by yet another of the themes of Mobile World Congress. Barcelona 2018, Innovation- what can we do to break down current barriers? What undiscovered technologies are possible. And what unforeseen problems will we be tasked with conquering then? Regardless,  They will discuss all of these topics and more at length at Mobile World Congress Barcelona 2018. The event promises to be riveting. Pushing us towards a better tomorrow.
If you're attending the big technology event of Mobile World Congress. Barcelona 2018, you might make your ride special to the event. Choose your own car rental, chauffeur drive or airport transfers from CARSiRENT.com
If you're planning a trip soon, make sure to check our competitive rates for car rentals worldwide. Enter your details below, compare, choose and book!