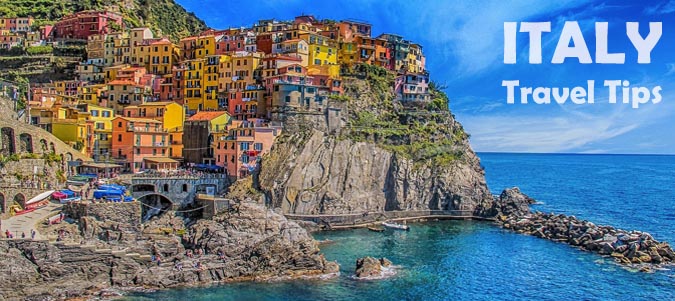 Italy is one of the most touristic countries worldwide, and the reasons tourists choose this beautiful country are many.  Gorgeous Italy is well known for its food, attractions, vineyards, art, fashion and so much more! Travelling to Italy for the first time can be overwhelming, and with so much to explore one can get lost in all that there is to do. Not to worry, we at Carsirent have you covered with this list of useful Italy travel tips.
Italy is more than just Rome and Venice
While these big cities and a few others such as Milan and Florence are marvelous and a must see, Italy has also some of the most beautiful hidden areas and are as worthwhile to include in your travel itinerary. As a first timer, do include visiting one of the major cities in your plans but keep an open mind to discover other breathtaking areas of stunning Italy. If going to Rome, make sure to take a trip to Capri, Assisi, Bagnoregio and more. Refer to this great blog by The Local for some good tips on where to go from Rome. From Venice, go to places such as The Veneto Region for some real Italian beauty as per this great blog by tripsavvy
Italy tourist attractions are found all over the country in big cities and in smaller towns, plan your trip properly to benefit from every opportunity of discovering this country's stunning gems.
Rent a Car to Travel Around
Italy is one of those countries that you must get yourself a vehicle to drive around in. Even though driving inside the city might not be very pleasant with the traffic and narrow roads, but to discover the most possible by driving from city to city and into the countryside stunning villages and vineyards, will make your trip all the more interesting.  This is one of the best Italy travel tips you can get where you'll get the chance to explore more and enjoy gorgeous scenery along the way. Book your car with Carsirent.com for the best packages available in Italy.
Eat Like an Italian
Get ready for some real flavors when travelling to Italy. However, you must learn to eat like a real Italian to get the most of what this delicious cuisine has to offer. Most Italians will start their day with a traditional Cappuccino during their breakfast. Their lunches will always include a starter known as the "antipasti" followed by pasta or risotto as the "Primo Piatto" and then a meat platter as their main course. A side salad always compliments the menu. While Italians will most likely end their feast with a fruit, you are surely to keep some room for the "Dolce". Italy has some of the most famous desserts such as Tiramisu and ice cream "Gelato".
Practice Your Italian
While English is common to be spoken by the locals in all big touristic cities, in some countryside areas and neighboring villages you might find yourself needing a translator. The Italian language is a beautiful and romantic one, therefore learning a few of the basics will be fun and will save you in some moments while travelling to Italy. Saying Gracie "Thank you" and Buongiorno "Good morning to the locals will surely put a smile on their face.
Cover Up When Visiting Religious Sites
Cover up those bare shoulders or legs when planning to visit some religious sites in Italy. When visiting these sites women will probably be asked to cover up to enter. Make sure you are prepared with some additional items to use when needed at times like these. Churches take a big part of Italy tourist attractions, therefore this is an important tip to take into account.
Cinque Terre is a Must
The Cinque Terre in Italy, translated to the five terrains in English, is a dream holiday destination for anyone! Known to be one of Italy's most beautiful areas for a memorable getaway. The five terrains are the stunning Monterosso, Vernazza, Corniglia, Manarola and Riomaggiore. All can be traveled through by car, by train or even through hiking as a walking bridge exists connecting them to one another.
Make sure to check out this perfect blog article about the Cinque Terre by Hand Luggage Only before planning to visit Italy.
Taste the Italian Wine
Travelling to Italy is not complete without exploring one of Italy's vineyards. Italian wine just as the Italian cuisine plays a big role in this culture. One of the best Italy travel tips we can give you is to enjoy a glass of Italian wine with your meal every now and then. The different types of flavors of this wine are a great way to enjoy your vacation in Italy. Italy's vineyards also play a big role in its tourism and are visited by wine lovers from all around the world. For some great tips on Italian wine we would recommend you read this blog post by Vincarta.
Italy is actually  the oldest wine making country worldwide, therefore a visit to one of its vineyards will truly be a great way to learn one important aspect of the Italian culture. Here are some of the most famous vineyards to visit: Ca'del Bosco, Barone di Villagrande wine farm, Vietti, Massimago Winery, Ceretto, Vignamaggio, Biondi Santi and more!
Consider Skiing in Italy
Visit Italy in winter if you love to ski. While Italy is not as famous as Switzerland and France when it comes to skiing, but Italy actually own some of the most beautiful ski resorts in the Italian Alps a ski lover must explore. One of the perks of choosing to ski in Italy is that you won't have to spend a huge amount of money on it, unlike in the neighboring countries' resorts. Some of the best ski resorts to name a few are Alta Badia in South Tyrol, Cortina d'Ampezzo in Veneto,  Madesimo in Lombardy, Passo Tonale in Brescia.
Water is Free in Italy
Here's one more free tip, tap water in Italy is drinkable. Some travelers are not aware of this and end up always on the search to buy a bottle of water. Well, this can save you a lot time and cash. Tap water in Italy is clean and one hundred percent safe to drink.
Queuing is a Must
Because Italy is one of the most visited countries worldwide, and has plenty of tourist attractions that travelers cannot leave unexplored during the trip, you will find yourself queuing in line during most of your day. An important tip here is not to fall for the scam of someone you can pay to skip the line. Frequently, this will end up as a scam and you will be left with no other choice but to get in queue just like everyone else. It is advisable here to visit those Italian tourist attractions through tourism offices, which most of the time have privilege in some areas and can get you right in. Not to mention, the guides that come along with the tour and that will make your life easier in exploring all there is.
The above sums up some useful Italy Travel tips for you to consider before planning your next trip. Checkout our previous post on The 10 Best Places to Eat in Rome
For the best car rental deals in Italy go to carsirent.com and find the best option for you.