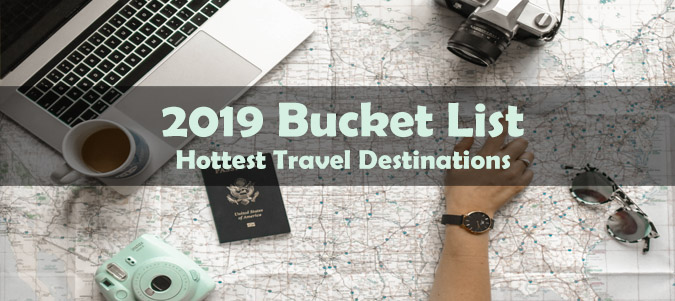 It's that time of year again, that we make sure to provide you with the new year's bucket list of hottest travel destinations 2019. Wondering where to go in the new year and what are the most talked about travel spots, we have you covered. Here are the top picks of the
Hottest Travel Destinations 2019
1- Sao Paolo
As Sao Paolo in Brasil may sound like a typical recommendation, but we truly believe that those who haven't been to Sao Paolo yet, and have preferred maybe Rio De Janeiro instead, should think again. This city has always been a short stop for many when on their way to another city or country but Sao Paolo has a lot to offer from night life, museums, art, international cuisines, shopping to much more. Reason to why we have included it among our list of Sao Paolo "Hottest Travel Destinations 2019".
Do make sure to plan for a few days stay in Sao Polo to discover this city's grandness and hype. Include in your trip the following lovely places to see and activities to do:
Enjoy Samba Saturday when Live Samba music is played around in most of the city's bars
Have a drink at Vila Madelena, Sao Paolo's nightlife hub
Taste famous local dishes like the feijoada, Churrasco and street food such as Pastel 
Tour the MASP, Museu de Arte de São Paulo and the other numerous museums
Admire the City's wonderful architecture and street art while shopping at its street markets
2- Bali
Another of our Hottest Travel Destinations 2019 picks is Bali. It's sunny in Bali all through the year! Who doesn't dream of a sunny beach spot where you can chill and relax while viewing some of the most beautiful sites while you meet lovely people and discover a unique culture. Known to be a great destination for its value of money, here is what you can do there:
Relax on its zen beaches
Discover the Mystical Temples
Try out surfing and diving
Taste the delicious local food
Enjoy its nightlife
3- Vienna
Vienna is known to be one of the most fascinating cities in Europe, and attracts many tourists from all around the world. We have selected Vienna as one of the Hottest Travel Destinations 2019 for its beauty in combining the city life with nature along with its splendid culture. A trip to Vienna would be ideal for those who love to discover so much in one destination. Birthplace of the most intellectual people ever born such as Mozart, Beethoven and Sigmund Freud.
When in Vienna, you have the chance to:
Discover the stunning modern and historical city architecture
Enjoy the home of classical music
Relax in its natural parks and recreational spots
Tour the many museums with collections from historical famous artists
4- Ponta Delgada
Portugal is not only about Porto and Lisbon. There are so many beautiful spots to discover in this touristic country and one of them would be Ponta Delgada. Ponta Delgada is located on São Miguel Island and should be visited between June and September, when chances of rain are very low. Ponta Delgada is at the entrance to the Azores, and one of the nine islands not to be skipped.
Here is what not to miss at this spot from the "Hottest Travel Destination 2019":
Admire the views from the Hermitage of the Mother of God
Go Whale watching or swim with dolphins
Discover the Grottoes at António Borges Garden
Visit  the City Hall and the Parish Church of São Sebastião
5- Montenegro
Montenegro, a Balkan country in Europe, known for its rocky mountains, medieval villages and its gorgeous beaches has also made it to our list of "Hottest Travel Destinations 2019". Montenegro is a small country, but its beauty makes up for its size. Driving around the country from one area to the other would be a great joy for anyone who enjoys road tripping. Here are the cities and areas to visit in the wonderful Montenegro:
Kotor for good history discovery
Budva for excellent parties and beaches
The Ostrog and Moraca Monastry
The Durmitor National Park
6- Banff
Banff is home to superb resorts and one of Canada's most visited touristic destinations. Known for its surrounding mountain beauty and hot springs. A great place for outdoor sports enthusiasts who love hiking, biking, and skiing in winter. Aside from all the outdoor fun, here is what to make sure and discover in Banff:
Enjoy the Town life from shopping in its markets and tasting its local food
Walk The Glacier Skywalk
Discover Lake Louise
Experience The Gondola
Ride a cruise Lake Minnewanka
Watch a Caribou
7- Sa Pa
Sapa in Vietenam is popular for being a great trekking location overlooking the rice fields of the Muong Hoa Valley. A stunning scenic destination that you will have everlasting memories of. Its most outstanding attraction and what brings visitors to this village are the different ethnic tribes adding culture to its charm. Some of the most interesting to discover in Sapa would be:
Hiking and Trekking its tracks
Experiencing the Fan Si Pan Mountain
Visiting the tribal villages
Enjoying the Hoang Lien National Park
Tasting the exquisite Vietnamese specialties
8-  Matera
Matera in Italy is a small city located in Basilicata. Its spectacular aspect is that all you will experience there will be within a cave. It is composed of ancient neighborhoods occupied by grottoes where villagers lived previously and now have become accessible to all visitors after the villagers had been moved to better living conditioned areas. A fascinating region to be discovered for great knowledge of its history and culture. Countless things to experience in Matera, to name a few:
Take a walk around this ancient city
Visit the Musma Museum of modern art displayed in an ancient Grotto
Experience how the poor villagers lived through the Casa Grotta di Vico Solitario
Stay in a Cave hotel
These places we have included in our list of Hottest Travel Destinations 2019 are all truly special in their own unique way. The best way to explore each one of them is to rent a car with us to travel in peace and comfort, while profiting from great packages and special deals.