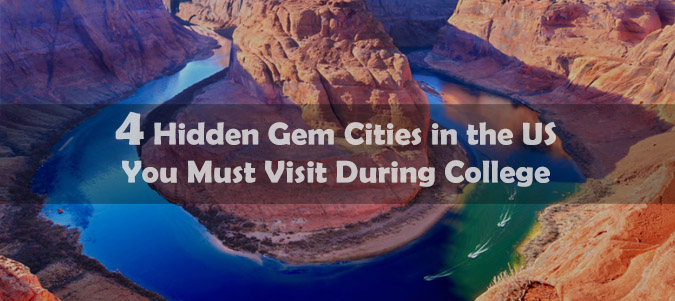 Hidden Gem Cities in The US Every College Student Must Visit. There is no better time in your life to travel than during college. The lack of serious commitments and extended holiday breaks offer a perfect traveling opportunity for every college student. The United States is filled with countless unique destinations, so do not miss your chance to see them. These are the four hidden gem cities in the US you probably haven't heard of! 
Sleepy Hollow, NY
If your school offers a fall break, then use the time to take a short weekend adventure to Sleepy Hollow, New York. Washington Irving's account of the Headless Horseman makes Sleepy Hollow an eerie place to visit in the fall. The city honors its haunted tradition every Halloween with events in the local parks and cemetery. It's one of the most beautiful hidden gem cities in the US.
Boise, ID
No matter what season, there's plenty of fun to be had in Boise. The capital of Idaho is the perfect place to spend an extended vacation during winter or summer break. Bogus Basin is the top attraction during the winter months. The ample snowfall in the area makes the resort the ideal place to go skiing or snowboarding. Tubing, hiking, and fishing at the Boise River are the best ways to capitalize on the city's relatively mild weather in the summer.
Page, AZ
Page is a small town located in Northern Arizona that has the honor of being one of the most picturesque cities in the United States and it's considered as one of the best hidden gem cities in the US. Glen Canyon Dam and Lake Powell offer truly stunning views that you will not be able to experience anywhere else in the world. The city is also a short two-hour drive from the Grand Canyon and Antelope Island. There simply is not a better place to experience the natural beauty of the Southwest than Page, Arizona.
Marietta, GA
Anyone with an interest in U.S. history will absolutely love their time in Marietta. The city played a big role in the Civil War, and this history is honored every day at the Marietta Museum of History and the Confederate Cemetery. The Civil War era is also celebrated at the Gone with the Wind Museum. There is still plenty to enjoy about Marietta if you prefer to keep the learning in the classroom. The city is a short drive from Six Flags Over Georgia and all of the great attractions in Atlanta.
Do not let your college years go to waste. Get the most out of your ample free time by traveling on a regular basis. A trip to one of these four hidden gem cities will be an experience you'll fondly remember for the rest of your life. Be sure to check out potential car rentals as you prepare for your trip!