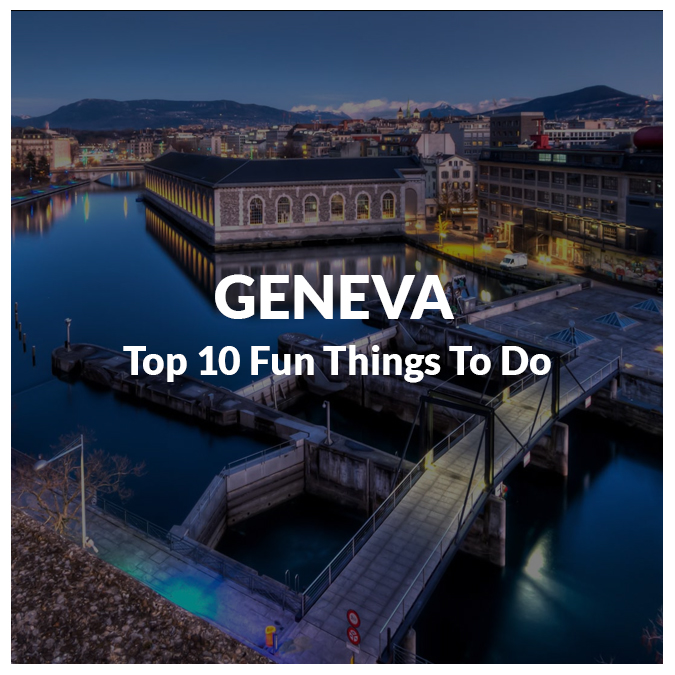 Geneva relishes one of the greatest urban places in the world. It inhabits the westernmost corner of Switzerland, literally on the French border; and it's bordered by the spectacular Alps and elegant Lake Geneva, also known as Lac Leman. More than just a city, it is the anchor of a two-nation region waiting to be explored with loads of Fun things to do in Geneva, Switzerland.
Fun things to do in Geneva
10. Lake Geneva
This beautiful lake is something that is surely going to make you fall in love with it. The beauty of the sunlight hitting the lake and makes the entire view of the absolutely stunning. This is a place for pure relaxation with amazing spas, unique shopping experiences and when tired amazing restaurants to dine.
Lake Geneva offers the visitors with wonderful events to be a part of, eye-pleasing color displays, mouth-watering cuisines wonders for each and every season.
9. Mont Salève
Located just 20km from the center of Geneva, Mont Salève is a prevalent destination for a day trip. Whether a sightseer is looking for a peaceful escape into nature or a local sports lover, there is something to delight everybody. When the sky is clear, there is a heavenly view of the neighboring area up to 30 kilometers with the Jura mountains as well as the Mont Blanc. As well, even if Geneva is overcast and rainy the weather at the mountain's peak is often nice and sunny.

It provides its visitors with adventure sports such as Cable car service, Hiking, and Paragliding. Which makes it all the more Fun and exciting and is certainly one of the Fun Things To Do in Geneva.
8. Jet d'eau
First of all, the meaning of this word 'Jet d'Eau' is 'water jet', the huge Fountain on the Geneva Lake, in the city of Geneva, Switzerland. Jet d'Eau is one of the tallest fountains in the world; which makes walking around it one of the most Fun things to do in Geneva.
The Fountain presence gives the power to the place, everytime you look on its majesty you are reminded that you are in the powerful and well-organized country.
To get a taste of the fountain, you can walk the pathway going straight to the fountain and continuing around it and have a great close view if you don't mind getting a little wet.
7. Parc La Grange
The Parc La Grange is the single largest green space in Geneva and some will agree to the fact it's also the most stunning. It is well-known for its biggest rose garden in Geneva.
It also contains Théâtre de l'Orangerie which is basically an orange tree greenhouse. Where plays, classical and modern alike, which run through all summer. They conduct at least 8 plays a year.
Théâtre de Verdure also called Ella Fitzgerald Scene, conducts music performers during the sunniest months of the year, usually from the end of June to mid-August. The program is usually revealed early June so keep an eye out for the eclectic lineup.
A garden from another world, like you, would only believe it to exist in stories – 10,000 roses from 200 different species. All in all, this is an amazingly heavenly place to be at and surely one of the Fun things to do in Geneva.
6. Geneva Botanical Gardens
Geneva's gorgeous Botanical Gardens is must visit place for families with kids, for couples on romantic walks or anyone who needs to rest his busy mind and relish the calmness of beautiful nature, while not leaving Geneva.
The Garden consists of :
Water Fountain
Wooden Animal Statues
Ball games allowed in the very east part, behind the bird's section.
bees
goats and sheep are eating grass behind the fence.
5. St. Peter's Cathedral
St. Peter's Cathedral (English), or Saint Pierre Cathedral (French) is over 850 years old Geneva's main church, famed for Jan Kalvin preaching here.

North and South Towers are available for visitors with spectacular views over Geneva. In addition, the Cathedral also hosts plentiful performances, there is an archaeological site and Maccabean Caple situated here and exposed to the public.
4. Natural History Museum
The National History Museum was initiated in 1966, a few years after it was built, with new galleries adding up in subsequent years, enticing today over 250'000 visitors a year.
You will quickly realize that visiting Switzerland's largest natural history exhibition is much like taking a trip down memory lane. A straight dive into 60's architecture and interior design while setting off on a voyage that will take you through the evolution of mankind.
3. Globe of Science and Innovation
The Globe of Science and Innovation got initiated in 2004.  The inner sphere, whose structure consists of 18 cylindrical wooden arcs. Who also covers itself with wooden panels forming a magnificent vault worthy of a cathedral.
Therefore it is a unique visual landmark, the Globe, 27m high and 40m in diameter, is a symbol of Planet Earth. Moreover, housing a permanent exhibition, the Globe of Science and Innovation is becoming a major symbol of advanced scientific research in the Geneva area.
it invites a lot of tourists to walk in and look into to what sort of research is CERN doing. Hence, this is definitely a very interesting place to visit. Hence it's being listed in our list of Fun things to do in Geneva.
2. Gruyères Medieval Village and Chocolate Factory

Enjoy a day trip to Gruyères from Geneva to enjoy some delightful chocolate tasting. Furthermore, discover the village of Gruyères and its beautiful environments, such as the Castle of Gruyères, the Alps, and Lake Geneva. Visit the Maison Cailler chocolate factory and learn about the chocolate-making process. Means to get there is by comfortable, AC coach. Moreover, enjoy an enlightening, culinary experience with a bilingual guide
10. Geneva Old Town Segway
Going on a 1.5-hour tour of Geneva's Old Town by Segway. The modern way to admire top city attractions such as the Brunswick Monument and the Reformation Wall. Another fun thing to do is to cross the Bergues Bridge to the Old Town. Also, discover the cobbled streets with your guide.
Take in stunning city views from Rousseau Island. Explore the Promenade de la Treille and the ancient Bourg-de-Four Square. In addition, this tour limits to 12 people at a time which ensures personal attention from your guide.
All in all, Geneva ensures you loads of fun, stunning environment and some heavenly views that can surely amaze you. Finally, it is also a place for all kinds of people. People who want a peaceful escape into nature, adventure or even a fun-loving holiday.
If you're planning a trip to Geneva soon, make sure to check our competitive rates for car rentals worldwide. Enter your details below, compare, choose and book!