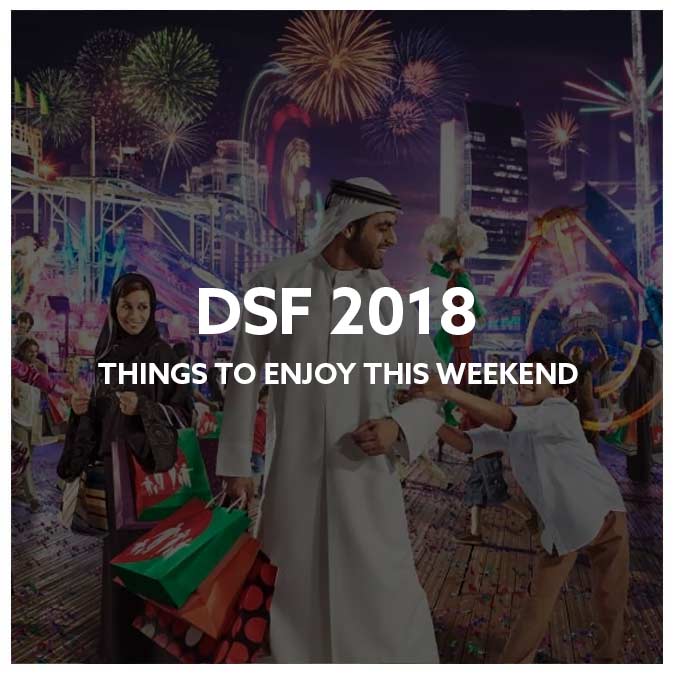 The more than a month Dubai Shopping Festival (DSF) is adjudged the largest shopping festivals in the United Arab Emirates. It is a mixture of fun, festivities, different bouquet of activities and entertainment in the Middle East of UAE.   Children fancy, family delight, fulfilling dream and a heaven on earth – are the ideal words to describe the popular DSF.
Dubai Shopping Festival: Things to Enjoy This Weekend
When is Dubai Shopping Festival?
26th December 2017 – 28th January 2018 are the dates for Dubai Shopping Festival
The Location
In DSF will take place in many locations since it is a city-wide festival. Some of the locations where you can enjoy the festival are:
Lulu Village
Mercato Shopping Mall
Dragon Mart
Lamcy Plaza
Festival Waterfront Centre
Deira Metropolitan Centre
Mall of the Emirates
Al Seef Street
Asianet Film Awards
DSF Desert Camp
Promenade at the Festival City of Dubai
The Layali Dubai Concert
Gold Souk
Al Fahidi For
Night Souk
Dubai Mall
Al Rigga Street
Global Village
Ibn Battuta Shopping Center
the best thing to enjoy going to all the above-listed shopping centres is to rent a car in Dubai. And before you do make sure to check UAE Car Rental Rules
Things to Enjoy This Weekend During DSF 2018
1. Carpet and Art Oasis
There is an opportunity for you to buy different types of handmade silk carpets from across the globe and a huge collection of historic gift items at Dubai World Trade Centre. Moreover, the Carpet and Art Oasis are in operation from 10 am to 10 pm during all the weekends at Dubai World Trade Centre and admission is free.
All the visitors will have the opportunity of winning a handcrafted carpet.
2. Exclusive Light and Musical Shows
Visitors can have a wonderful time enjoying fantastic musical and light attractions from the just-launched shopping district of Al Seef. This will comprise of The Lighting elves and Light coverings, which form a segment of the lineup of events from Layali Al Seef.
'Festive on the River' at Riverland Dubai
In addition, another thing to enjoy this weekend at Dubai Shopping Festivals is for you to festive on the river at Riverland Dubai. It is a total enjoyment galore comprising of series of activities, outdoor cinema movies, European style festive market, and festive décor. However, As from 4 pm to 10 pm, there is something for you and your family to enjoy at Riverland Dubai.
4. Go to Al Fresco Market
You can visit the autonomous Al Fresco Market in Burj Park from January 11 to 20. Furthermore, this market will showcase many up-and-coming designers and program of activities.  Such as live performances from onstage DJs and bands, evening yoga classes, and the opportunity to experience the most recent documentaries outside the cinema.
5. Add to You Makeup Bag at Bloomie's Loves UAE
Are you one of the lovers of beauty? This is an opportunity for you to add to your make-up bags at the Bloomingdale's Loves Beauty floor in the United Arab Emirate Dubai Mall which features a wide range of locally-developed beauty brands across makeup, tools, skincare and fragrance.
6. Watch the Fireworks
You can look at the fireworks every weekend all through the month of January until the last day of the festival by 8.30 pm at Al Seef. Also, you can watch a different fireworks at 9 pm at Lar Mer, and by 9.30 pm on the JBR Beach. Take a look also on where to go in Dubai at night 
Final Thoughts
The Dubai Shopping Festival (DSF) is a month-long shopping event full of excitement and amusement. Visitors to the DSF have a lot of things to do at this event. It is a five weeks festival of prize draws, entertainment opportunities, sales and shopping extravaganza for the whole family. Use the remaining days in January to catch your own fun of the event!
Whether it's DSF or not, Dubai is always glamorous and will find hundreds of things to enjoy in Dubai throughout the year, and many delicious things to try there. If you're planning to go on a very short weekend to Dubai, make sure to get the most of it.
If you're planning a trip soon, make sure to check our competitive rates for car rentals worldwide. Enter your details below, compare, choose and book!