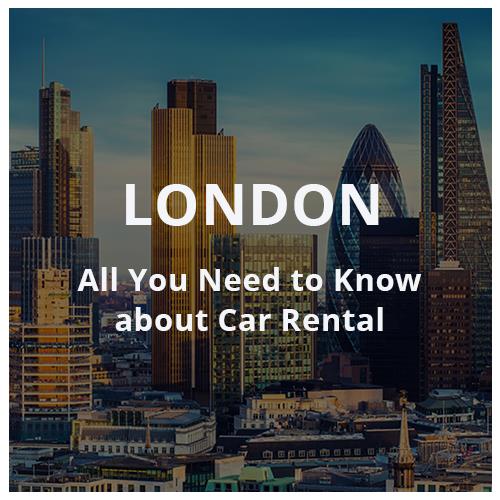 You don't need anybody to drive you to your hotel and just anywhere you're going once you opt for car rental in London. It's a better way to get around than using public transport. In addition, when you rent a car, you can also go to nearby places outside of London – whether on a business trip or just for leisure. The best, convenient and quickest way to rent a car is by going online to book. Subsequently, you will pick up the car at the airport or other designated location once you arrive in London.
Here are things you should know about car rental in London;
Get all Helpful and Relevant Info for Renting a Car in London
You should pen down the pieces of info you generated so that you can refer back to them subsequently. For instance, you should determine the date you would be needing the car, the size of the car you need, when/where to pick and drop off the car, as well as your car rental budget. You should also keep your passport, driver's license and credit card handy.
You can Pick Up Your Rented Car Straight from the Airport
When renting a car to drive in London, you should bear in mind that some rental companies are stationed within the airport to make pickup and drop off easier and more convenient. So, you may want to look out for car rental companies that are available at London's Heathrow airport for instance when booking a car online. You can check with the well-known travel sites or log on to Heathrow website directly to check available car rental agencies or companies.
Don't Just Settle for the First Offer that Comes Your Way
If you're looking to save on car rental in London, you should shop around for the best deals instead of just settling for the first offer that comes your way. And, to make this exercise very quick and more convenient, you should head straight to the rental companies' websites and input the required pieces of info such as your travel date and size of car.
Contact the Car Rental Company
Once you spot the car rental company in London with the best deal, contact the company in order to make your booking. You can go ahead and book on the website. If you're experiencing difficulty booking on the site, you can contact the phone number provided on the website for help.
And, before you start booking, make sure you have the required information handy. You need to provide the agent with your name as well as the booking confirmation number to enable you pick the car.
Consider Using a Travel Agent
While going online is the easiest and most convenient way to embark on car rental in London, you may also decide to use the services of a travel agent and provide such agent with the pieces of information mentioned earlier – date of travel, car size and so on.
Go for Less Expensive Car Booking Options
For instance, you will pay less on London car rental if you choose not to drop off the car at a site different from the pickup location.
Confirm if You're Authorized to Drive in London
Before even thinking of renting a car in London, find out if you are eligible to drive in London and England as a whole. You need to possess a valid driving license issued in your home country, which would enable you drive for about one year from the time you arrived London.
You Must Drive on the Left Side
Also, as you embark on car rental in London, you should keep in mind that you have to drive on the left side once you hit the road. Also, remember that limited parking is the order of the day in Great Britain.
If you're planning a trip soon, make sure to check our competitive rates for car rentals worldwide. Enter your details below, compare, choose and book!