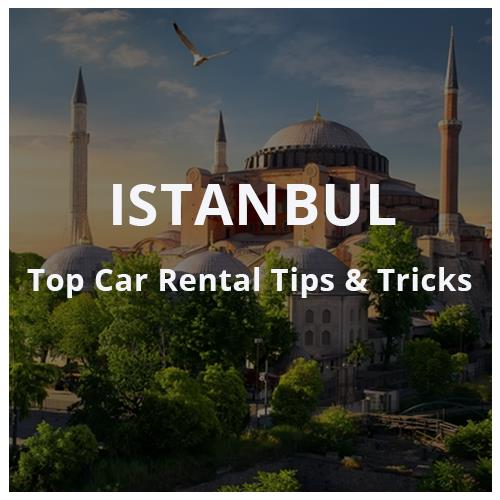 While you can move around via a public transportation system or taxi, car rental in Istanbul offers more flexibility. This is because you can get to nooks and cranes where a taxi driver may not want to take you and where a public transport may also not access.
When looking to rent a car in Istanbul, you should focus on shopping for the best deal in terms of price, ensuring you read the fine prints in order to grasp the rules and policies that apply to the car rental company in Istanbul. The best option is to go online and explore best car rental companies in Istanbul. Be sure that all the required documents are ready before you start booking.
Some great tips and tricks for car rental in Istanbul include the following;
#1: Shop for Best Car Rental Deals Online
Some of the travel websites you should explore in this case include Hotwire, Kayak, Priceline and Expedia. Compare rates for the size of car you need and target a period when you can land better deals. When comparing prices and deals, you should factor in additional charges such as airport surcharges, under-age drive fees, mileage fees that apply when you exceed specified miles per day cap. Another additional fee you may need to find out is extra driver fees if more people (other than one person) drive the rented car.
Tip #2: Determine the Size of Car You Want to Rent
Also, when considering car rental in Istanbul, you should determine the size of car you would need. There are wide range of car sizes you can choose from for your movement in Istanbul – from SUV to compact.
You should not forget that the meaning attached to terms such as "luxury-sized" and "compact" may vary. A number of agency websites would display some models for each category, including the number of people that the car can contain.
Tip #3: Look out for a Travel Package
Often, you can get the best deal on car rental in Istanbul by going for a package deal. In essence, consider booking flight, accommodation and car together. This often provides a traveler with some great discount. Or at least, you should book for a flight and car together, especially if you plan driving the car straight from the airport to your accommodation.
Tip #4: Factor in the Features You Require in the Car
Also, don't forget to pre-determine the features you want in a rented car when shopping for a car rental deal in Istanbul. Typical examples of such features include a car seat for children or a GPS system. Ensure you factor in these extras as you explore best car rental deals. There are different options that come with different car models.
The best bait in most cases, especially if you are on a budget is to provide such extras on your own and not to rent them. You should cut out those extras if they are merely wants and particularly if you are a budget traveler. If such features are really needful, you should also factor in insurance cost. A good number of personal auto policies as well as credit card providers would include insurance coverage for car rentals, but you can choose to purchase extra coverage. Most often, you will get these offers during the rental process.
Look out for an option that would enable you explore car rental policies on your preferred rental website. And, be sure to contact your insurance company prior to making any rental decision, so that you can find out what their car rental policy is. Majority of the auto insurance policies would extend your existing vehicle coverage to your car rental.
Tip #5: Choose an Alternative Reservation Method
Going online is the best way to embark on car rental in Istanbul. But, if you prefer an alternative to online car rental, you can do your reservation via phone by contacting the rental company, so that you can reserve a pick up location, date and time.
Finally, ensure that you receive confirmation of your car rental in Istanbul before you sign log off.
If you're planning a trip soon, make sure to check our competitive rates for car rentals worldwide. Enter your details below, compare, choose and book!