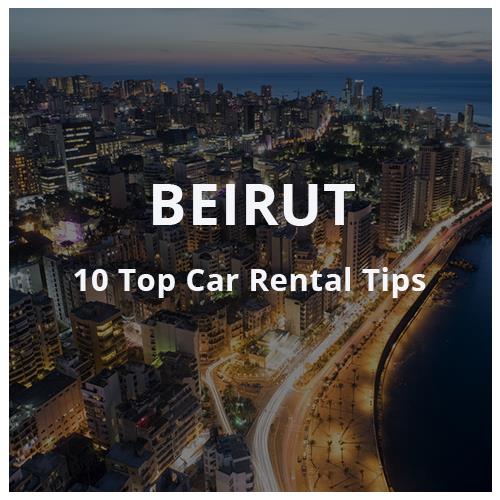 If you're planning a trip or vacation to Lebanon. Beirut the capital city of Lebanon is a location you may want to explore. Beirut is by far the biggest of all the cities in Lebanon.With about 2.1 million population. Beirut has maintained its status as the sole authentic cosmopolitan city in Lebanon. One of the best ways to get around the city is to go for car rental in Beirut.
And, when it comes to car rentals in this big city. You can rent a car in Beirut as soon as you land at the airport. You will find a number of agencies waiting to rent a car out to visitors. But, you can also rent cars elsewhere in Beirut apart from the airport. The major lure about renting a car at the airport is the possibility of getting better deals than renting elsewhere in the city.
The Advantages of Renting a Car Versus other Ways to Get Around Beirut
One of the major benefits of opting for car rental in Beirut. Instead of taxis or public transportation is that you will be able to get to places. That would have been difficult to access with public transport. You will also enjoy the convenience of just driving to wherever you desire. At your own pace and in your own time. Besides, it can be ultimately cheaper compared to public transport or even taxis, whether you are traveling as a group or just you.
Here are 10 tips for car rental in Beirut;
#1: Research the Options You Have
Thankfully, the internet offers you a quick and convenient way to explore countless options of renting car in Beirut. As mentioned earlier, Beirut airport offers one of the best spots to rent a car since you would likely get better deals. Plus you will find trusted agencies to rent car from. You can also rent elsewhere in the city.
#2: Book Online
The internet has paved way for vacationers and travelers to find and get good travel deals with just a click of the button. Research car rental services online, compare prices and look out for good deals and offers. Subsequently, you should go for the best possible car rental deal in Beirut, ensuring that the agency or company is a trusted one to avoid being scammed. You can land really good deals on car rental by renting a car online.
#3: Go for Travel Package Deals
Also, if you're looking to get great deal on car rental in Beirut. One of the best techniques is to go for travel packages. In essence, instead of just renting a car individually. You should look for Beirut travel packages that include accommodation, air ticket, car rental and a couple of other travel components. Package travel deals often provide affordable car rental option.
#4: Check the Features on the Potential Car
You should explore the features of the car you intend to rent. To make sure it suits your need. For instance, GPS navigation is a helpful feature if you are new in Beirut. This will make your driving around easier. However, check that the additional features are not adding up to the rental price.
#5: Check if the Car is Automatic or Manual
If you are conversant with automatic transmissions, it will be a nightmare ending up with a car that has manual transmissions. Therefore, confirm what type of car it is before you pay.
#6: Confirm that the Size of the Car fits Your Need
Also, when booking a car online to get around Beirut, you should check if the car is roomy enough for your luggage and other people with you (if you're traveling in group).
#7: Book through Well-Known Travel Websites: The benefits include getting good deals and sticking to trusted car rental services in Beirut.
#8: Ask Someone: If you know someone who has embarked on car rental in Beirut, you can get first-hand information on how best to go about it by asking the fellow.
#9: Look out for Best Travel Times: This offers more affordability on car rental and other travel components.
#10: Check the car Rental Policies: Finally, be sure you've read and understood the policies of the car rental in Beirut agency before paying.
If you're planning a trip soon, make sure to check our competitive rates for car rentals worldwide. Enter your details below, compare, choose and book!