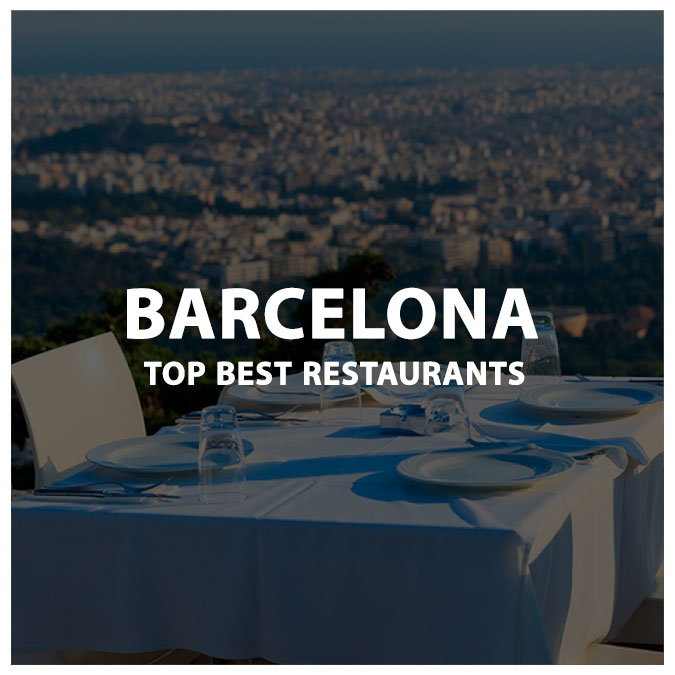 Barcelona best restaurants is the hint for this blog. One of the great joys of travel can be sampling foods from local restaurants. Although it can be tempting to enjoy a meal that might be familiar. Experimenting with cuisines native to the area can be a rewarding experience. After all, how often does the opportunity to enjoy a meal steeped. In the heritage and tradition of the visited locale present itself? Because of the size, scope, and rich history of Barcelona. It can be daunting to try and decide where to eat unless you are familiar with some of the best restaurants in Barcelona.
 Barcelona Best Restaurants
1- El Canalla
El Canalla is certainly one of the best restaurants in Barcelona. El Canalla makes masterful use of the Josper. A device that's something of a cross between a broiler and a barbecue. The end result, then, is an increasingly complex flavor instilled into the prepared dishes. El Canalla offers heavier dishes, such as charred pluma Iberica pork with shallots and roasted potatoes, but also offers lighter dishes that might sit just a bit easier during the warmer months.
2- Taverna del Clinic
If you're in the mood for a meal at a fine dining establishment, try Taverna del Clinic. This particular fine-dining restaurant has an endearing backstory, as it began its life as a neighborhood bar that garnered a reputation for having the absolute finest bar food around. The kitchen had a reputation for sourcing only the freshest in-season ingredients, virtually guaranteeing the freshness of any meal. In 2014 the establishment expanded, opening a dining room and taking the restaurant from being a neighborhood favorite bar to being a fine dining restaurant, complete with the décor and menu to match. While La Taverna del Clinic might be a bit pricey by some standards, for those looking for a dining experience in one of the best restaurants in Barcelona, it's undeniably a strong contender.
3- Can Culleretes
Can Culleretes is one of Barcelona best restaurants. If you aren't in the mood for a complete fine dining experience. But still find yourself with a hearty appetite, check out Can Culleretes. Even though you might not be getting a five-star dining experience, you can rest assured knowing that you're still going to experience a truly remarkable meal- Can Culleretes has been serving customers their meals since 1786. It's certainly safe to say that any restaurant that has consistently satisfied its clientele for well over 200 years is most likely doing something right. Can Culleretes prides itself on serving its customers hearty, satisfying meals and delicious wines at the lowest possible price. For those looking for the best restaurants in Barcelona, but hoping to enjoy some authentic cuisine on a budget, it doesn't seem as though there are many options superior to Can Culleretes.
4- Can Vilaro
Finally, no list of the best restaurants in Barcelona would be complete without mentioning Can Vilaro. No matter where you go, people across the world boast about how there's nothing that matches up to the quality of a home-cooked meal. That being said, it can be extremely difficult to secure a home-cooked meal when you're visiting a strange city. Can Vilaro, however, prides itself on offering meals that meat the "home-cooked" quality. Can Vilaro presents its customers with authentic meals, classic cooking that is a must have for anyone visiting Barcelona that just cannot imagine leaving the city without getting a true taste of the soul of the city. Anyone looking for traditional delicacies almost certainly must give Can Vilaro a try.
Barcelona is packed to the brim. absolutely overflowing with quality restaurants that are sure to leave a hungry traveler sated. There are almost certainly many more restaurants. That would be worth a visit. Also, there are fund things to do in Barcelona. so don't hesitate to do even more research. Just know that if you find yourself in Barcelona with the opportunity to dine at any of these restaurants. You would almost certainly be doing yourself a disservice by passing any of them up.
 
If you're planning a trip soon, make sure to check our competitive rates for car rentals worldwide. Enter your details below, compare, choose and book!