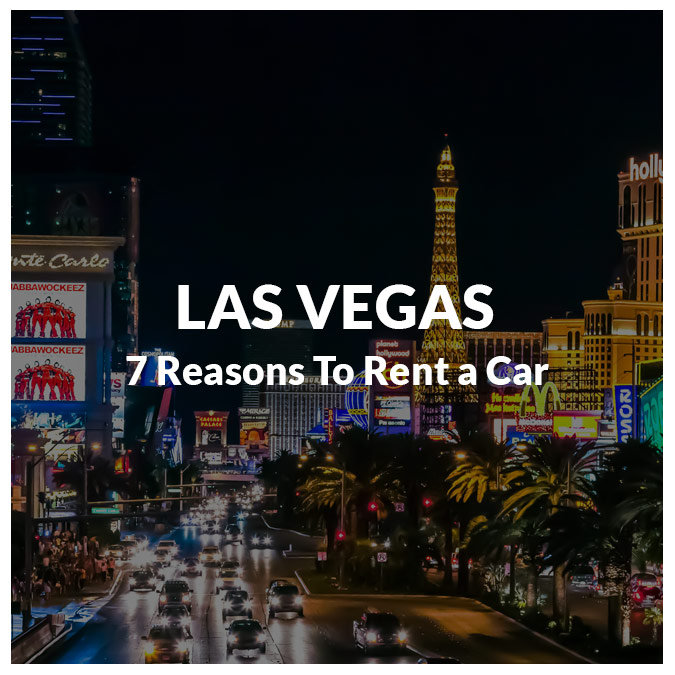 Answers to the question "Should I rent a car in Vegas or not?" will surely vary. But to save you the trouble, the answer to that question is yes, and here are 7 reasons why:
7 Reasons to Rent a Car When in Las Vegas, Nevada
1 – Convenience
Public transport in Las Vegas is pretty diverse, but nothing beats the convenience of having your own means of transportation. No need to go find a bus stop, or to get in a queue to hail a cab. Just keep in mind that for the ultimate convenience, choosing the right car is extremely important. Our post 'The Best Type of Car to Rent' will advise you on how to choose the right car for your needs before you rent a car in Vegas.
2 – Freedom
Having your own car means you have absolute freedom. You can go anywhere, at any time, and with anyone. Still scouring The Strip for that perfect resort? Get in your car and check each and every one of them! Are in a rush to get to the Smith Center a concert? No need to wait for a taxi, you can just take your rental vehicle.
3 – Privacy
When you're out and about trying to relax and have a good time, to rent a car in Vegas will help to get some privacy, even when you are traveling around Sin City. That is impossible if you take the bus or take the monorail. Even taking a cab doesn't afford you privacy. A rented car, though, can do just that.
4 – Competitive Prices
Vegas car rentals don't come cheap, but they aren't too pricey either. For affordable rates, look no further than here on CARSiRENT.com as we offer transportation solutions in the MENA region, including reasonably priced car rentals, chauffeurs, and airport transport. For those looking for a good deal our advice would be to read 'Car Rental Cost-Cutting Secrets Revealed!', which will be useful for those traveling on a budget.
5 – Avoid Traffic
Traffic in Las Vegas can get heavy sometimes, especially in certain areas such as the Spaghetti Bowl. Having a car can help you avoid places like the Super Arterial section between Valley View and Paradise, or the Beltway Bypass, which are notorious for traffic jams.
6 – Road Trips!
Las Vegas is a great starting point for a road trip across Nevada, and where better to rent a car than at The Strip itself. There are many great trails and parks to explore away from Vegas. It is nice to get out of the city, even for just a few hours, and renting a car is the most convenient way to do this.
7 – Ride in Style
This is Sin City, where stars and high rollers converge. So, why not ride in style? Car rental services offer a diverse collection of cars, and if you have some dollars to spare, when you decide to rent a car in Vegas, you can choose a luxury car that will blend in nicely with the bright lights of Vegas. You have lots of options, and traveling in style happens to be one of them.
The Strip offers plenty of options in terms of attractions and things to do, which is why it earned itself the status of the Entertainment Capital of the World. Playing in casinos, of course, remains a constant in the Vegas ecosystem. But the leading integrated casino resorts on the Strip have had to raise their game due to the stiff competition they are now facing due to the rise of digital gaming. Game developers are taking full advantage of the accessibility of the internet, and releasing all sorts of games on online platforms that casinos are unable to offer for a number of reasons. Hi-Lo Blackjack on Slingo combines two popular games and lets players enjoy a digital casino experience without the effort of visiting an expensive gaming destination such as Las Vegas or Atlantic City. Due to technology these games are getting better all the time, which means there may come a time when more people will be playing online rather than going to actual casinos. Despite the rise of digital gaming, we highly recommend visiting the casinos to truly get the Sin City experience. If you're renting a car, most of these casinos will have valet parking, making your visit that bit easier.
If you're planning a trip soon, make sure to check our competitive rates for car rentals worldwide. Enter your details below, compare, choose and book!