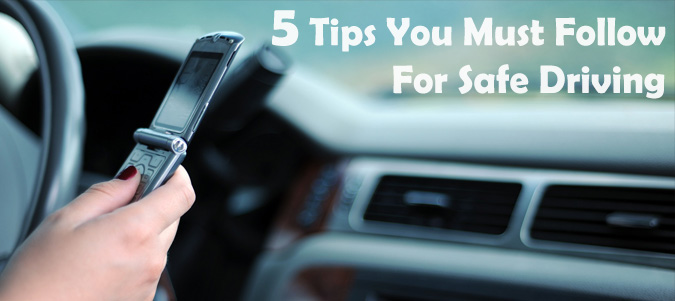 Some of the most unsafe driving distractions on the road today may surprise you. The vast majority of driving accidents today are caused by driver error. Distracted driving has sadly become the norm in our society. Most people know that irresponsible activities like texting and driving or drinking and driving will greatly diminish your ability to concentrate and significantly reduce your reaction time. However, there are many common things people do every day that are surprisingly very dangerous and distracting.
According to one lawyer, "It is the responsibility of every driver to abstain from distractions which could lead to an accident." Distracted driving is a huge problem in our own cars, but it can be an even more frequent and dangerous occurrence when we are renting a car. In addition to the normal distractions you have to be aware of when driving a rental car, you also have to adapt to the car, brakes, steering, dials, knobs and buttons when you rent a car. Here are five distractions to avoid for safe driving in your rental car.
The GPS Or Map
Most people rent a car when they are traveling for business or pleasure. If you are traveling and are unfamiliar with the area you are driving through, you will likely be relying heavily on a road map or GPS to help you navigate to your destination. Glancing up at your mounted GPS, peeking at the map on your smartphone, or looking down at a road map causes a significant and dangerous distraction. It takes enhanced concentration to navigate roads you are unfamiliar with, and glancing away from the road for just a moment can have catastrophic consequences. GearBest reminds drivers to "Make sure that you have added the destination address correctly and know the general route. If you plan to take your GPS unit on a trip, and use it in your rental car, be sure to program your destination in the unit before your leave." If you are traveling with friends or family, have your passengers do the navigation for you, or pull off the road safely to glance at your GPS or map while you fill up your gas tank, use the restroom, or grab a bite to eat.
Talking To Your Passengers
While you may think you are engaging in friendly conversation and enjoying your road trip, excessive talking to passengers is actually a huge driving distraction. Any form of multitasking, and that includes talking, forces your brain to compartmentalize your tasks. If you are on a busy stretch of road or are trying to navigate through heavy city traffic in an unfamiliar area, enforce a strict no-talking policy until traffic clears or you stop for dinner. All of your focus and attention should be on reading road signs and watching for people changing lanes abruptly. Your brain should not be trying to focus on the road while talking about your upcoming trip itinerary.
Your Pets
The Law Offices of Dianne Sawaya state that "About two-thirds of dog owners admit they have engaged in a distracting behavior while driving with their dogs, according to a recent survey from the American Automobile Association (AAA). Many of these canine passengers — about 84 percent — are free to roam the car as they please." During long car rides, it can be hard to keep your pet happy, calm, and restrained. While you may have the urge to let your puppy out of his cage so he can be closer to you and enjoy the fresh air from the open window, it is incredibly dangerous to give your pets room to roam in your rental car. Not only can your pet get injured if you have to slam on your breaks or jerk the wheel to avoid potentially hitting a deer, your pet may also become a safety risk to your driving if he or she climbs in your lap and bumps the steering wheel, gets lodged under your seat, or climbs down near the gas and brake pedals. Do yourself and your pet a favor; invest in a kennel or crate that is backseat friendly, or invest in a safety harness and buckle system for your pooch.
Adjusting The Radio Or Temperature Controls
We spend a significant amount of time clicking buttons, knobs, and dials during any type of road trip. Even in your own car and in your own town, you probably fidget with the temperature dial to get it comfortable in your car or click through until you find your favorite radio station. When you are traveling in a rental car, you want to try to minimize the amount of button fidgeting you do. Even taking your eyes off of the road for a couple of seconds to adjust the radio volume to hear your backseat passenger could be enough time to get into an accident. If you are traveling with passengers and need to adjust the volume of the radio or the temperature dials, ask your passenger to make the appropriate changes on your behalf so that you can keep your eyes on the road.
Holding It All In
Many people schedule pit stops along the way when on a road trip. If you have to go to the bathroom and still have 40 miles to go before your next scheduled pit stop, do yourself a favor and pull off at the next rest area or off ramp. Studies have shown that having the urgency to use the bathroom can distract your focus and judgment in a significantly negative way. Geico writes that in 2011, a study revealed that "having to go to the bathroom badly while driving impairs your judgment and focus on the same level as a 0.05 blood-alcohol content." If you are taking a road trip, plan more frequent scheduled stops to use the restroom and stretch your legs. Or, stop when you feel the urge begin to creep up on you.
In our modern world, there are many distractions we can encounter while we are driving. Unfortunately, the vast majority of car accidents happen as a result of driver error or distracted driving; these distractions are completely preventable. Eating or drinking, applying makeup or looking in the mirror, reaching for items in the backseat, disciplining the kids, or letting your focus slip away from the road are all common distractions that can lead to disaster while driving. Glancing at a car accident on the side of the road or a pedestrian in a crosswalk on the other side of the road can cause you to get into your own accident in the blink of an eye. The consequences of distracted driving aren't worth it.
CarsiRent is committed to helping you and your passengers to have a safe and happy trip, whatever your destination. See which of our top-of-the-line rental cars are available today!