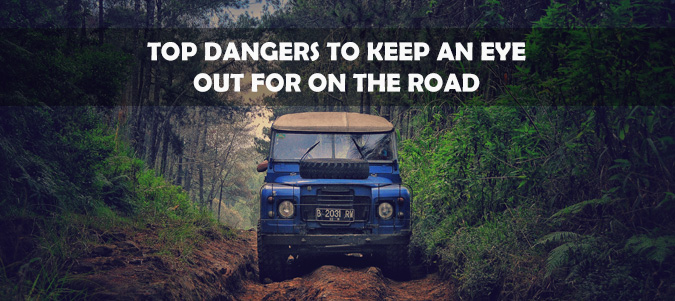 Road dangers are unavoidable for most travelers. As you visit other countries, you expect the level of driving to improve or make a sharp decline. Here are 4 dangers to pay attention to as you travel. Read and take notes for top dangers to keep an eye out for on the road. 
4 Top Dangers To Keep an Eye Out for On The Road
Debris
Debris that you find suddenly on the road can be more dangerous than other drivers. You could swerve to avoid hitting the debris and end up hitting another car instead. If you run over rugged debris like glass, the impact could blow out your tires. If the tires become misaligned, the entire vehicle becomes difficult or impossible to control.
Distractions
Keep an eye out for distractions on the road. In countries where smartphones are commonplace, auto accidents are most often caused by distracted driving, which result in thousands of fatalities and injuries. Start by reducing the distractions inside your car by putting away the cell phone and not using portable devices. Avoid driving in crowded places if you get distracted easily or at night when most drivers are fatigued. Distractions are one of the top dangers to keep an eye for on the road.
Other Drivers
The most obvious threat comes from poor drivers. Driving while distracted is now a common threat to every motorist and passenger on the road. In any country or city, there is no guarantee that distracted driving will never occur.
Most people have to learn how to drive defensively by following basic rules, such as trailing safe distances behind other vehicles and checking their blind spots. When you are alert, it may not matter if the other driver is not. Taking a defensive driving course is not required either when you use good judgment and always remain alert.
Road Negligence
Sometimes, the roads themselves are dangerous as a result of city negligence and poverty. On remote roads, there may be continuous traffic but few or no road signs. Inclement weather makes some roads continuously wet or muddy, which increases the risks that people will skid out of control. Drive slowly if you notice that the roads are damaged and beyond your control. The Road itself is one of the top dangers to keep an eye for on the road.
When you travel to other countries, you immediately notice differences in the ways of driving. The road conditions vary along with the driving habits of the motorists. Some roads and highways are classified as the most dangerous ones to travel on, and most people do not know until an accident happens. No matter where you go, remain alert about every danger that is present on the road. Dangers To Keep An Eye Out For On The Road
Sometimes the best way to react to a problem is by preparing beforehand. Here is a list of great things to plan for and bring before you even leave so if a problem does arise, then you'll be ready!
References:
If you're planning a trip soon, you should probably consider renting a car. It would be the most convenient option for an easy and affordable transportation between different cities and countries. Enter your details in the box below to check our Car Rental Rates worldwide