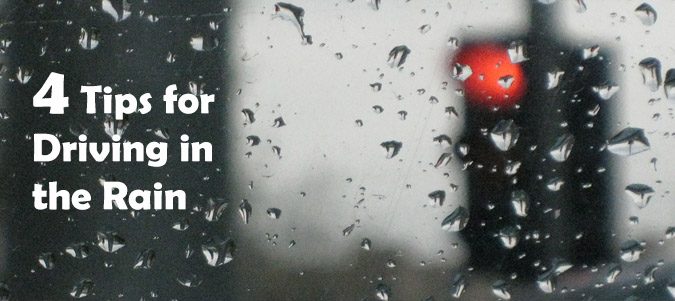 Tips for Driving in the Rain. We all desire one thing when we get into a vehicle, reaching our destination safe and sound. That can be a problem when driving in rain. We have identified 4 leading tips that will be an excellent guide to driving safely in the rain.
Firstly, it's crucial to recognize that regardless of what type of whether you're driving in, safety is a priority. However, we can't deny the risks get higher in some weather conditions. Driving in rain is among those times. We all desire one thing when we get into a vehicle, reaching our destination safe and sound. That can only be achieved when we take great caution while on the roads. Well, even daredevils will often have a safety plan in place.
So, what options do you have that you can implement to successfully driving safe in the rain? Driving in rain isn't that challenging, and you'll discover that by the time you're done reading this piece. We have identified 4 leading tips that will be an excellent guide. Check out below our 4 tips for driving in the Rain
4 Tips for Driving in The Rain

Take It Slow Anytime You're Driving in Rain
Why the rush? You know there's a chance you could be rushing to an accident or worse your death. Yes, there are instances when the time is your worst enemy. You could be behind schedule, rushing to catch a plane or whatever situation that makes you feel like you don't have the time. Regardless it's important to keep the speed limit. Well, you'll also save yourself from getting a speeding ticket.
It doesn't matter what weather you're driving in. Staying within a safe speed limit is essential. In the rain, you don't really have an option. Our driving in rain safety tip number one is to take it slow. We all tend to underestimate light drizzles, but the truth of the matter is that as long as the roads are wet, it's best to decelerate. Therefore, anytime there are some showers, consider taking it slow; we all want the same thing to ensure you get to your destination.
Keeping Your Car Lights On is a Driving in Rain Safety Rule
Let's not kid ourselves, car driving in rain is a dangerous affair. Well, not every person will see it that way, but still, it's crucial that you put your safety first. Many states require that drivers turn on the lights when driving in the rain. Poor visibility is the main culprit here. It's almost difficult to see the car in front of you in the rain. Drivers will utilize the lights to make out the distance between them and other vehicles and be able to make the right calls and in the process avoid any accidents.
However, a lot of us will turn the hazard lights on, and the reality is they aren't really necessary. You only need your headlights or fog and brake lights when driving in rain, and it doesn't matter if they are light showers or a storm. Hazard lights are in fact a hazard and pose a danger to other motorists. The flickering lights can be a distraction and lead to serious accidents.
Keep Your Distance
One of the key rules of street safe driving is to always keep some distance between your car and the one in front of you. Under typical weather, you'll obviously keep some distance. However, in a storm or drizzles, it's best to keep a good distance. The gap isn't just from vehicles in front of you but any other hazards that may be on the road.
Why is distance so important? We all at a point have had to do some driving in rain, and the one thing you'll experience is poor visibility which makes it hard to approximate the space between you and the next car or any objects on the road. That increases the risk of you getting into an accident. Chances are that you'll be forced to hit the emergency break several times, and it exposes you to higher risks of hydroplaning. Get some reasonable distance to enable you to have enough reaction time.
Keep Your Car in Good Condition
Do you know that your careful driving can be an exercise in futility if your car isn't in good condition? Well, a car like any other machine requires regular maintenance to work efficiently. When a vehicle is not in its proper shape, who's to know when it will break down or cause a severe accident. There's a reason why countries have set rules on what vehicles are considered road worthy. Such laws help prevent cars that are a threat from being in the streets. So this is the last of the tips of driving in the rain: Always keep your car in good condition and make a full checkup before hitting the road.
Driving in rain as mentioned before ups the stakes and you'll definitely need a car in an excellent state. You need a car with good brakes, newer best winter tires and of course working wipers, especially in cold weather.
Conclusion
Before you hit the road, take the time to familiarize yourself with rules of driving. The truth is that our tips will only work if you understand the rules of the road. Generally, staying safe requires always being careful and smart because it's what will keep you alive. If you're thinking of driving in rain, our 4 tips will make your journey smooth and help you avoid any accidents.
How do you stay safe on the roads when it's raining? Please share some of your tips with us.
About the author:
My name is Carlos Blue. I am an auto expert, traveler, and father of 2 awesome kids. I do love cars and everything related to it. Also, I work at the Shell Service Station.