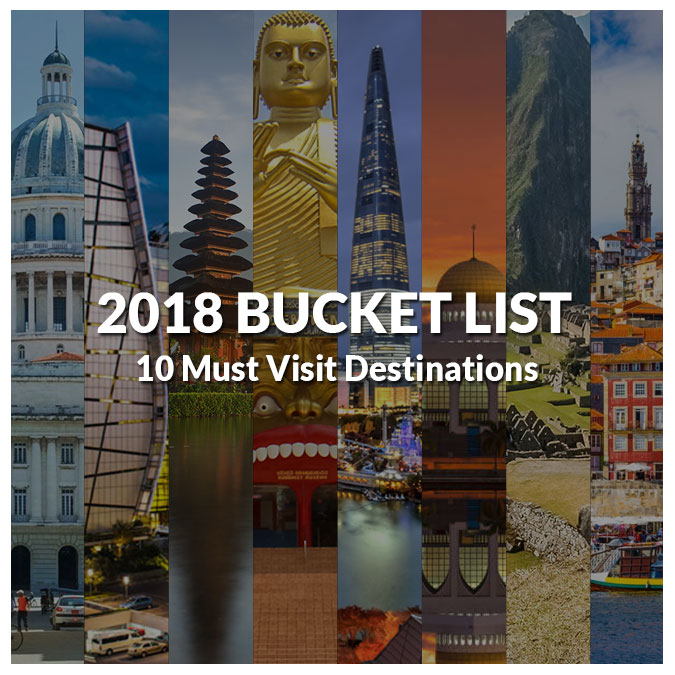 As we say hello to the new year and start thinking of new destinations to visit, a good list of fun and beautiful places would be ideal right now. Which is why we have researched and compiled an excellent list for you to refer to while planning. For all you travel lovers here is your 2018 bucket list.
1- Iceland
To start off with our 2018 bucket list, we have chosen Iceland as one of the destinations to plan for. This dazzling country with its breathtaking landscapes has been topping lately all travel lists. The reason is clear. Iceland is one of the richest places considering the beauty of its nature and the warmth of its hospitality. Iceland's cultural life also contributes greatly to its beauty. There is so much to explore there such as steaming geysers, black lava beaches, and erupting volcanoes.
2- Morocco
For a colorful cultural and an educational historical kind of trip, you must include Morocco on your 2018 bucket list. The country's diversity of enjoyable experiences will leave you with memorable moments to look back to forever. The country has a lot to offer from colorful markets in the Medina, the beauty of the Sahara Desert, its dazzling historical architecture, to its delicious spicy flavors.
3- Portugal
Portugal has never been as popular as its neighboring European countries such as Spain, France and Italy. But as more travelers discover this country, it is now becoming a favorite destination for many. Your trip to Portugal may consist of a historical part while visiting its well preserved ancient castles. The second part should be saved for enjoying its beaches, music festivals, gourmet, and nightlife.
4- Peru
Another destination to include to your 2018 bucket list is charming Peru. Beyond its culinary delights, it is known for its glorious old towns, many museums and the impressive 1,800-year-old Huaca Pucllana ruins in Lima.  A lot for you to discover in this diverse and fascinating country. Benefit of every moment there while visiting its ruins sites, tasting its culinary delights and enjoying its vibrant cultural festivals.
5- Cuba
You might have heard over and over from fellow travelers that it is an upmost must to visit Cuba. Well they are absolutely right, as Cuba is a unique and one of a kind travel experience that you will talk about always. Besides their famous cigars and oak aged rum, Cubans were born to play instruments and create beautiful art. Throughout the country music follows you while you walk the beautifully painted street walls and tiles. Not to mention the American old style cars that will make you feel like in a 1950 movie. In addition to all that, Cuba consists of miles of white sand beaches with perfect scenery to enjoy.

6- Sri Lanka
Gorgeous Sri Lanka is a must visit country at any time in your life. This small tropical climate island is home to the most beautiful beaches, the most ancient  Buddhist temples and the most famous wild life national parks. Your days in Sri Lanka will be packed with things to do from early morning to late evening. Including the local trips to its various cities and charming villages.
7- South Africa
In South Africa you can have it all! Whether looking for a trip full of fun activities, exploration of new areas, or just some good time on the beach. Known as 'the world in one country', many reasons lie behind why you should travel to this phenomenal country. Some of the few reasons would be its beaches, its wildlife, its food, and its outdoor activity options. The best part of it all is that it is considered a very affordable  country.
8- Indonesia
A place where not everyone would think to include on their travel list, but Indonesia is a hidden gem in the southeast of Asia. A perfect destination to both types of travelers, the luxury seekers and the  backpackers looking for a thrill. Every city in Indonesia stands out for its own charm and all deserve to be visited. Wonderful Indonesia is rich with natural touristic areas to explore. For surfers and divers, this country is ideal.
9- South Korea
South Korea has a long history dating back to over a thousand years. Due to the isolation of the Korean Peninsula, the country's culture hasn't changed as much as in other neighboring regions. Still you can be fascinated with some of the most significant cultural heritage sites of the country, such as Gyeongbokgung Palace, situated in Seoul. The city of Gyeongju, often called a 'museum without walls', will also be a great place to visit. The country celebrates all year long festivals that will be an additional enjoyable experience for you.
10- Tanzania
For its exceptional natural beauty, Tanzania must be on everyone's list. Packed in one great package, your experience will include Mt Kilimanjaro, Zanzibar and more. More than almost any other destination, Tanzania is the land of safaris where your will find wild beasts everywhere. Experience the hospitality of a local meal and the rhythms of traditional dance by one of the many cultures there.
The above sums up our compiled list of places to visit this year making up a good 2018 bucket list. Check out our upcoming blog posts where we'll take you through each of the above mentioned countries in more detail.
Fill in the below box with your details to check our car rental rates for your next travel adventure!