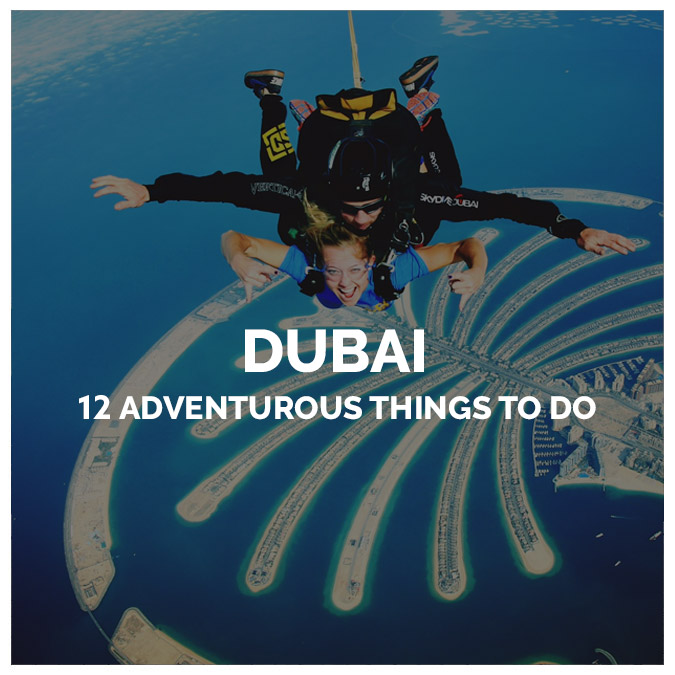 best activities in dubai, best cuisines in dubai, best food in dubai, best things to eat in dubai, budget dubai, Car rent in Dubai, car rental rules in dubai, Dubai, dubai nightlife, dubai shopping, dubai tourism, traditional food in dubai, travel guide dubai, visit dubai, what to do in dubai
Dubai is a city of extremes. The small city is full of tourist places to visit. and activities to do. Literally built from sand, it is one place on earth where it would be quite surprising if there is any form of adventure activity that you cannot do. Maintaining high standards of safety. Cleanliness and infrastructure for the adventure lovers, it is the place to go. A few of the adventures you can do to get your heart thumping are as follows.
12 adventurous things to do in Dubai
Skydiving:
First of all, as pretty and interesting as buildings in Dubai. Are to see and explore, the aerial view of the city is equally amazing! Skydiving is one such extreme way of combing your love for adventure and all things beautiful.
Jumping from an altitude of 4000 meters strapped with expert instructors. Who have more than 22000 jumps under their belt. This dangerous stint becomes safe in Dubai.
Free falling gives big adrenalin high and liberating feeling. After which the chutes are opened to make the sail and descent smooth. This gives a birds eye view of the city especially Burj khalifa and Burj Al Arab. Right before the landing near Palm Jumeirah. You can enjoy the spectacular views of the palm shaped island.
Hot air Balloon:
Second, though a hot air balloon ride is not death defying activity. It is a soothing way to gather your thoughts. And enjoy a city from a different perspective.
You can calmly sail across the sky a few hundred feet above the ground. And take in the beautiful views of the sand dunes. The famous buildings and the blue waters.
Early morning hours are the best time for this laid back adventure. You can enjoy not only the man made beautiful sights. But, also the natural beauty of the sun coming up and bathing the city and desert in golden hues while having a sumptuous breakfast.
Third, another luxurious way of seeing the city from above. is taking a seaplane ride. Unlike helicopter rides, here the seaplanes take off and land in the sea after your aerial tour of the city is complete. Not just the spectacular views of the city but the take offs and landings in the sea are an amazing adventurous experience.
Mountain biking:
If you are a hard-core biker, then the Hajar Mountains on the eastern side of Dubai are one challenge you should definitely take up.
Discovered and maintained by a group of mountain bike enthusiasts called Hot Cog, there are almost 70 kms of wild terrain through animal paths and narrow trails to be covered.
Not suitable for unseasoned cyclists, these paths are a mix of steep climbs, rough terrains and wildlife like donkeys, lizards and snakes for company.
Dune Bashing and skateboarding:
The Dune bashing is an extreme sport, a must do when in Dubai.
Dune bashing is basically going up the sand dunes (mountains made of soft sand) and coming crashing down at great speeds. The thrill is exhilarating to say the least, but one need not worry about accidents as the drivers are specially trained to handle cars on soft sand.
Doing dune bashing in a Hummer H2 adds the extra zing and spice to an already enthralling experience.
Desert Camping:
At the end of the city lies the vast unending desert. The thrill of being out in the wild, amongst the unknown and away from the busy city amidst the stars can be encountered only in the desert.
After a wild day spent crashing down slopes in a 4*4, this quiet adventure is much required and appreciated.
There are no designated areas for camping and one need not be stuck in a crowded campsite. You can stop wherever you fancy in the desert and set up your tent and barbecue away under the stars.
Scuba Diving:
This one is for the water lovers. Professionals, certified divers and amateurs alike can take up scuba diving in Dubai. For amateurs it is a three-day process.
The first day you are offered training and given a certificate post completion.
The next day you can go scuba diving as a practice session at The Pipeline, a place where you practice what you have learnt.
The next day you can progress to the Dolphin Bay where you can scuba dive with Dolphins and even touch the loving human friendly animals.
Reef and wreck diving:
Reef and scuba diving are very popular adventure sports all over the world. But Dubai offers lesser-experienced adventures of diving into wrecks at the bottom of the sea.
Though there are very few reefs of the sandy coast of Dubai, you can find many shipwrecks a few miles in to the sea.
Anchor Barge, which sank in 1998, can be found at the depth of 25 meters. It has become home to color changing cuttlefish and forms an artificial coral reef.
A cargo ship wrecked in 2006 can also be explored.
Ziplining:
Boasting of the longest zip line in the world, a person zips past most of the iconic structures that Dubai boasts of in just 40 seconds!
This is one adventure sport that you have to be lucky to be able to do in Dubai! Only 30 people are chosen from a draw every week for this adventure sport.
Though not a difficult activity to do, zipping past at speeds of 60-70 kms per hour does send your stomach rolling.
A very obvious but very scary heart thumping adventure sport. Bungee jumping can be done from multiple locations in Dubai.
Plummeting down a high rise can make the strongest hearted go weak. So if you are a first timer. You can team up with your friend or local expert and jump down together.
Flyboard:
A relatively unknown extreme adventure sport. Dubai is one of the few places in the world where you can do hydro flying. Or flyboarding with the right equipment and well-trained trainers.
In flyboarding you stand on a flyboard connected to a watercraft. And water pressure forced under the board makes. You rise high up to 15 feet above water. The water force is reduced to make you come crashing down up to 3 feet in the water.
Wadi Water Park:
This water park offers 30 adventurous rides and attractions for people of all ages and sizes. An adventurous activity park which has something for everyone in the family. This sure should be on the must do list.
Since it is located near the Burj Al Arab. You not only come sliding down twisted high slides but also get to enjoy the amazing views the heights of the rides offer.
Finally, the above-mentioned adventure activities are only the tip of the iceberg. When it comes to adventure sports in Dubai. It has a lot more to offer for everyone from kids to adults. And may Adventurous things to do in Dubai.
For extra fun in Dubai, check out the must try food in Dubai  and where to go to in Dubai at night. 
If ever decided to rent a car in Dubai, check out our best deals for car rental, chauffeur drive and airport transfers in the city.
If you're planning a trip to Dubai soon, make sure to check our competitive rates for car rentals worldwide. Enter your details below, compare, choose and book!