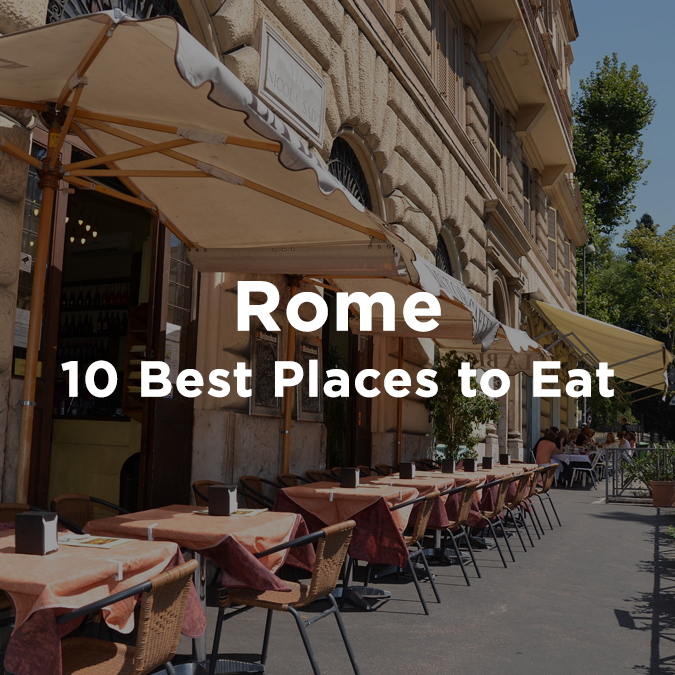 The breathtaking city of Rome offers a huge array of restaurants at almost every corner; needless to say as the Romans highly prioritize food in their culture. Therefore, wherever you turn, you are bound to come across the tempting smell of fresh Italian food drawing and tempting you into a cozy, family run business. The smell of freshly brewed Italian coffee tempting your senses for a good cuppa, or stopping by endless gelato shops to keep you cool as you explore the Eternal City. Here is a list of the best places to eat in Rome.
A beautiful combination of culinary experiences in our top 10 list awaits, here are the top 10 Best places to eat in Rome: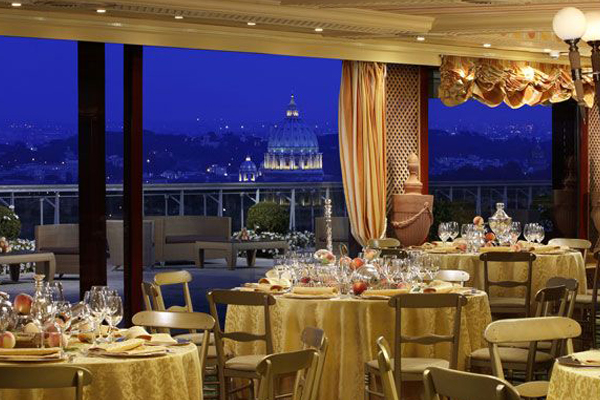 La Pergola

Cuisine: Mediterranean

Price: $$$$

Known the be the culinary star of the city, La Pergola's is Rome's only three Michelin stars winning restaurant, is regarded highly amongst the locals. The restaurant is greatly received and acclaimed by food critics and tourists worldwide.

La Pergola is located at the sophisticated Rome Cavalieri hotel. It features large glass windows that features breathtaking views of the city. The ambience is very high class and romantic, which works in tandem with the restaurant's decorations, paintings and art pieces, along with rare antiques on display.

The restaurant serves exquisite Mediterranean dishes using the finest and freshest ingredients from the city, most notably their world renowned Fagotelli LaPergola. They also boast serving the finest quality of wine from its cellar that contains 53,000 bottles ranging from 1888 to present day. La Pergola is the perfect selection for romantic outings and special occasions.


Pasta Chef – Street Food Gourmet

Cuisine: Italian, Street Food, Vegetarian, Vegan, Gluten Free

Price: $$

Just over a ten minute walk from the Colosseum, Pasta Chef is the ideal choice for quick meals for brunch, lunch or dinner that also happens to offer vegan and gluten free options. Treat yourself to speedy, deliciously served street food pasta that starts from 5 euros onwards, it is the perfect value for your money. It's often crowded and has very limited seating, it also does not offer reservations. Therefore it is recommended you take out your order and enjoy your meal on the go. The Al Dente Pasta is highly recommended to try from Pasta Chef!


Sushi Doku

Cuisine: Japanese, Sushi

Price: $$$

Sushi Doku is a traditionally designed Japanese sushi house that infuses Italian recipes with Japanese classics. An example would be their signature tempura fried zucchini flowers wrapped in salmon and whitefish, which is absolutely scrumptious. The other suggested picks would be the double crab, ebi tempura and spicy tuna. The service is excellent and is a wonderful spot if you're feeling like taking a break from Italian food for a day. It's a bit on the pricey side but the food and service is well worth it. Reservations are available and is fit for lunch and dinner.


Pizzeria Loffredo

Cuisine: Italian, Mediterranean, Pizza

Price: $

A 5 minute stroll from the Numidio Quadrato Metro Station, this small family run business is a real hit with both locals and tourists and is usually described as "real neighbourhood Italian food". Ideal for lunch and dinner, the menu provided at Pizzeria Loffredo is quite extensive, with several Italian specialties to choose from and comes in an English menu as well! The crocco pizza is one the most recommended dishes at the restaurant. Despite the place being busy throughout the day, the service is quick and the staff are extremely friendly, which will keep you coming back for more. Don't miss out on this hidden pizza paradise.


Lemongrass Gelato

Cuisine: Dessert

Price: $

Italian gelato is a must try for every tourist setting foot in Rome, and where better to try the best Italian gelato than Lemongrass Gelato? Drop by for the perfect treat after a long walk in the Vatican. The staff speaks fluent English and free WIFI is provided, although it has limited seating. However, gelato can be enjoyed on the go. The flavours that keep selling out are pistachio, pesca sorbet, hazelnut, and cheesecake ice cream, so if you're lucky enough, grab any one of the above! Perfect for the sweet tooth and is served in favourably large portions; along with affordable prices when compared to other gelatos served in Rome, make sure to visit this gelato gem!

Marenga

Cuisine: Italian, Shisha

Price: $$

Located closely by the historical area on Campo de' Fiori, Marenga serves an extensive Italian menu that tastes delightful and also happens to be one of the few Italian restaurants to serve shisha, giving them a competitive edge. Set in a very bustling and vibrant location, giving you the perfect view of the Roman atmosphere. Smoking shisha in their outdoors seating is recommended when the weather is good. It is always crowded by locals, so it is recommended to arrive early to be able to get a seat and avoid the wait.



Mandaloun

Cuisine: Lebanese, Shisha

Price: $$$$

Mandaloun is the place where authentic Lebanese food meets premium shisha in the Eternal City. Set nearby Villa Borghese, Mandaloun exudes a very middle-eastern ambience from the decor, to the arabic music playing. Even though the restaurant serves delicious food, their shisha is what attracts visitors to the place. 15 euros provides you with shisha from an extensive flavourful menu, and recommendations for the food would be the fresh spicy salad, mezze platters and shish taouk. Mandaloun has very nice and helpful staff and make you feel very welcomed at the venue. It is good to keep in mind Mandaloun is a bit higher priced than averaged Lebanese restaurants.

Cambiovita

Cuisine: Vegan, Italian, Cafe, Vegetarian, Delicatessen, Street Food, Gluten Free

Price: $

Located next to Navona Piazza, it is a heaven for Italian desserts and coffee and definitely one the best places to eat in Rome. It is also at very affordable prices, which makes this place unmissable. The ricotta cannoli, tiramisu and gelato are very popular with tourists. The coffee served is Illy and tastes fantastic, another recommendation would be espresso and hot chocolate. Very friendly staff that offer other excellent recommendations when asked.


La Casa del Caffe Tazza d Oro

Cuisine: Breakfast, Cafe

Price: $

Good for dining on a budget, and its only steps from the Pantheon. Considered one of the perfect places in Rome to grab breakfast, La Casa del Caffe Tazza d Oro offers a scrumptious range of pastries and authentic Italian coffee one of the best places to eat in rome. It is usually busy and only has a bar counter to place your food so you will have to take your food out with you. It is recommended to enjoy your breakfast whilst sitting on the fountain steps to admire the bustling scenery. The cappuccino is a winner with everyone and is one of the main staples of this cafe, you can also buy their fresh ground coffee to take home with you.

10. La Via della Seta
Cuisine: Lebanese, Mediterranean, Turkish, Halal, Vegetarian, Middle Eastern, Vegan, Moroccan
Price: $$
Fresh Lebanese food awaits in the small Middle-Eastern themed La Via della Seta. Placed in the city centre of Coronari street (Via dei Coronari), you can experience real ethnic food in the company of locals and other Lebanese food enthusiasts for a very small cost. The falafel sandwich is a must try for lunch, and the hummus is exceptional. Other notable items from the menu include Tahini, Muttabal, Muhammara, Kibbeh and Tabbouleh salad. The fresh and healthy ingredients makes it ideal for vegetarians and vegans as alternatives are available. Perfect spot for lunch or dinner with friends and family. You can also try their delicious rose and saffron tea after a filling meal at La Via della Seta.
When in Rome, make sure to check our best deals for car rentals.
Also, check this post for the top 10 things to do in Italy 😉
If you're planning a trip soon, make sure to check our competitive rates for car rentals worldwide. Enter your details below, compare, choose and book!