Love, history and beauty. The romantic city of Paris encapsulates all what a European city should be. Endless shopping at designer boutiques, exploring the city and coming across the city's treasures. Monumental and magnificent structures such as The Eiffel Tower, The Arc de Triomphe at the end of the Champs Elysees, the iconic Notre Dame Cathedral and The Louvre Museum, home to the world renowned Mona Lisa. Paris is every sightseer's dream.
Paris, France is also the hub for a very flavourful culinary scene, the city is filled with endless gourmet restaurants, and bakeries serving the freshest quality of breads and patisseries. Furthermore, cheese is also a key element of French cuisine, as well as boasting an excellent reputation for the exquisite French wine.
Sample the many delicious dishes and hidden Parisian delicacies that the City of Light has to offer with our list of 10 best places to eat in Paris: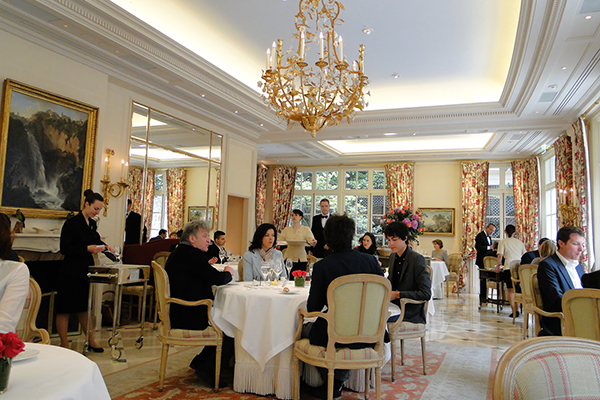 Epicure

Cuisine: French, European, Gluten Free

Price: 40 – 90 Euros

The perfect spot for all meals of the day including late night dinners, Epicure is situated within the Hotel Le Bristol and is considered to be a classy restaurant specializing in modern cuisine. This exquisite Michelin three-starred restaurant provides delight not only in its food but in its service as well. The staff are all well trained in the knowledge of gourmet and French cuisine to provide service of an optimum standard.

With several tasting menus, one of the menus served seven courses and starts with a beautifully presented artichoke, with langoustines with caviar. Then comes the Whiting with New Zealand spinach. For the main course, succulent duck magret from Challans is presented, followed by a fine selection of cheese and a pre dessert of pineapple and coconut cream. Finally, Strawberries and cream, and Rousillon apricot and bitter almond milk are served for dessert. Make it an enjoyable night in Paris and save your special occasions for a visit at Epicure.


Nick's Pizza

Cuisine: Italian, American, Pizza, Fast Food

Price: 10 Euros

A taste of an authentic New York pizzeria can be found right in the middle of Paris! For a budget friendly price, enjoy a filling homemade pizza at Nick's Pizza. This pizzeria is famous for using their own homemade dough that takes a minimum of three days to rise to ensure a delicious crust; and their homemade tomato sauce is crafted from scratch using Italian, top of the line whole, peeled, Motti tomatoes. Also, their unique low-moisture mozzarella is sourced from an exclusive supplier to ensure you get the real taste of what a gourmet New York pizza is for a fraction of the price. Also, Nick's Pizza provides all-you-can-drink, all-day bottomless sodas for only 1 euro per person with a purchase of pizza. Be sure to try out the delightful garlic knots to experience the whole Nick's Pizza package. The restaurant is composed of a very tiny space with just about siv stools inside the restaurant, but the pizza is definitely not to be missed. Definitely a great option for dining on a budget.


Cezembre

Cuisine: French

Price: 25 – 80 Euros

Located at the Saint-Germain-des-Pres, Cezembre is a wonderful discovery in Paris that serves lunch and dinner, in the very intimate setting and ambience.

The menu is quite limited, but the selections provided at Cezembre solidify being a top choice for fine dining with both locals and tourists. The chef's six course menu compliments texture, color and flavor that harmonically compliment with each other; making it one of the most demanded course choices in the restaurant. For appetizers, the soft boiled egg served with mashed potatoes, asparagus and chorizo are recommended. Moving on to the main course, it is an unmistakable choice to select Cod fish and squid ink risotto served with shiitake mushrooms and seasonal vegetables. Finally for dessert, the fresh raspberry soufflé with vanilla ice cream topped with fresh espresso is an absolute winner in our books! A reservation at Cezembre is a must if you are ever in Paris.


Le Saotico

Cuisine: Gastropub, French, European

Price: 3 – 8 Euros

What is described to be quintessentially Parisian, Le Saotico provides a chilled out ambience to enjoy all meals of the day with all their cuisines providing a unique French twist. This restaurant is perfect to treat yourself to cheap authentic French dishes and other European specialities. Le Saotico is a wonderful choice when dining with families, romantic outings and business meetings. The salmon steak and shrimp penne are both very popular dishes. In addition, the monkfish with mashed potato and herb base is also a mouthwatering delight as well as the duck and escargots. Make sure to try anyone of the suggestions above and you will be in for a vibrant and fresh culinary experience at Le Saotico. The attentive service, rich and flavourful dishes and meticulous attention to detail makes Le Saotico one of our go-to Parisian restaurants.


L'As du Fallafel

Cuisine: Fast Food, Mediterranean, Vegetarian, Middle Eastern, Lebanese

Price: 10 – 20 Euros

The best falafels in Le Marais and possibly all of Paris, L'As du Fallafel is always busy and bustling serving hungry customers throughout the day and the crowds and queues indicate what is already known about this place, it is very delicious and very budget friendly. Despite the busy atmosphere at L'As du Fallafel, the service is fast and the food is flawlessly served on time. The amount of sauces and toppings are well balanced and the pita bread is very soft and warm. The falafel sandwich and shawarma plate are served with portions fit for two. The hummus and moutabel is highly praised as well. They also sell their own signature red harissa sauce separately which makes for a great culinary souvenir or gift!


Le Pavillon by Noura

Cuisine: Lebanese, Middle Eastern, Shisha

Price: 33 – 70 Euro

Popular with tourists, especially Arab tourists, Pavillon Noura restaurant is located in the the heart of Paris' Golden Triangle, and is an elegant Lebanese eatery that is renowned for their excellent hot and cold mezze, meat, fish dishes and incomparable ice cream. The decor is sophisticated and modern, with a Lebanese influenced flair and extravagance to go along with it. The restaurant opens at noon onwards, and has a live band playing every night. Le Pavillion serves shisha in various flavours of the highest quality. The restaurant stays open for long hours, which is convenient when you are in the mood for a late night meal, snack or sheesha.


Alchimie

Cuisine: Middle Eastern

Price: 10 – 30 Euros

A much cheaper alternative to Pavillon Noura, just walking distance from Montparnasse. You can get your shisha fix starting at 11 Euros and excellent milkshakes and drinks at Alchimie. You can choose to sit either indoors and outdoors, although we always recommend shisha outdoors. The main picks that puts Alchimie on the map other than its shisha are the milkshakes, which have earned high reviews, contributing to Alchimie's stellar reputation. The Kinder Bueno and Snickers milkshakes are the best sellers. Their mojitos and other desserts are also highly recommended. Ideal for shisha, dinner and late night meals, be sure to stop by Alchimie!


Angelina Paris

Cuisine: French, Cafe, European

Price: 30 Euro Average

This French cafe has not garnered such a high reputation internationally without good reason. The stunning, yet classical Parisian cafe/patisserie is perfectly located close by to the Louvre and is a short distance from the Eiffel Tower. This is definitely not a cheap cafe. However, the food and service adequately gives you your money's worth at Angelina. It goes without saying that their signature hot chocolate is the definite main attraction of this cafe. As mentioned by many, it feels like drinking luxurious and high end melted chocolate in a cup! Other picks from Angelina would be the traditional breakfast, bagels, pastries, and several of their signature desserts. You can also opt for their tea if hot chocolate is not your preference. Angelina is the perfect choice for romantic and special occasions, and is even family friendly.


Berthillon

Cuisine: French, Cafe

Price: 15 – 20 Euro

Berthillon is arguably Paris' most popular place for ice cream, and is very crowded during the summer. Stop by their primary store at Île Saint-Louis to cool off from the Parisian summer heat. Starting at 3 Euros, indulge in Paris' best dessert in pear, cherry and raspberry, and other choices such as the Tarte tatin and Pistachio macaroons. The lines are long but the service is exceptional. The best French desserts await you at Berthillon.


Kashmir House

Cuisine: Indian, Asian, Pakistani

Price: 20 – 50 Euro

A short walk from Gare du Nord, Kashmir House from the outside looks very basic and what can be considered unappealing, but this should not discourage you from entering what is one of Paris' best Indian restaurants that will not make a hole in your wallet! Upon entering, this will not strike you as a romantic spot as you will be met with a restaurant full of visitors and waiters bustling around the place taking orders. The recipes are authentic indian and the owner is always present to help visitors out with the menu and offer superb recommendations.

The Chicken Tikka Masala, Palak Paneer, Sheek Kabab, Butter and Garlic Naan and Rice is what Kashmir House recommends, and will serve your food fresh and in a very short time, ensuring a perfect dining experience with them. Definitely a place to try out if you want to switch it up from the constant European and French cuisines.
If you're planning a trip soon, make sure to check our competitive rates for car rentals worldwide. Enter your details below, compare, choose and book!