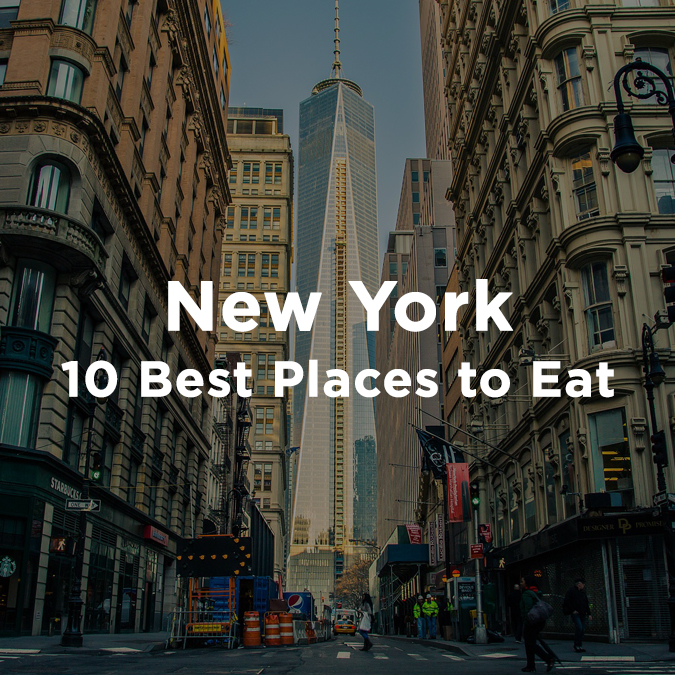 New York, the world's largest cultural melting pot. Which surely means that the Big Apple's culinary scene is diverse and as varied as one could possibly  imagine.
Because food is a great part of the culture, it furthermore extends beyond the busy city life Broadway plays, the enticing shopping streets and tourist hopping around Times Square. With several restaurants and stands across the city, you will therefore never sense any culinary experience similar to New York City.
Our list of 10 best places to eat in NYC is surely going to result in giving you a taste of the city's many flavorful personalities.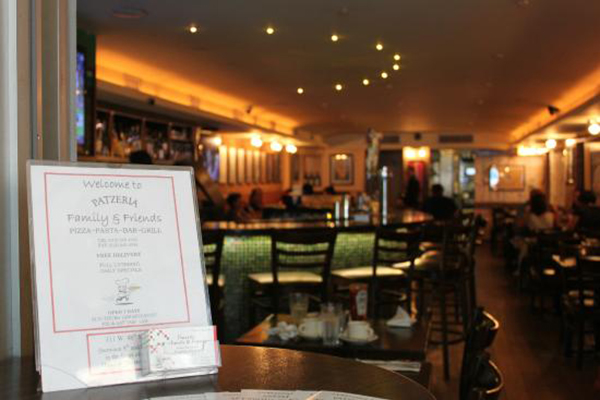 Patzeria Family & Friends

Cuisine: Italian, Pizza, Gluten Free

Price: $11 – $30

Strategically situated in Times Square. This authentic Italian restaurant provides Italian classics served in a very homey and family friendly atmosphere. Furthermore the serving size of their pizzas are really huge, which is ideal for sharing. In addition their staff are well versed of the menu. Most of all they are very helpful and attentive to all your needs. All of these components make for an excellent experience at Patzeria Family & Friends. The pizza selections, tortellini, garlic bread, cannoli, caesar salad and pies too are highly recommended to try at Patzeria Family & Friends!

Chipotle Mexican Grill

Cuisine: Mexican, Fast Food

Price: $5 – $10

The popular American fast food chain serves Mexican food with healthier ingredients lands a spot on our list. It is known for cheap, quick and delicious fast food. Most of all it is located just behind the Empire State Building, which makes it furthermore very easy to locate.
The famous burrito is a must try with several delicious toppings to choose from. Their tacos and nachos with sour cream and guacamole are way delicious too. In addition vegetarian options are also available, so the Chipotle experience is a win to everyone.

Daniel

Cuisine: French, Gluten Free

Price: $25 – $100

Daniel is probably one of New York's best fine dining restaurants in entire city, and deservedly so as it is a double Michelin star awarded restaurant.

Daniel promises an exquisite dining experience that is going to prove unmatched in comparison to other fine dining restaurants. Furthermore when arriving early, they serve enjoyable cocktails by the bar in addition to some premium light snacks. After having got a seat,we would highly recommend you to go with the tasting menu, and if you need assistance selecting which menu in particular, the waiting staff at Daniel a would assist you perfectly with your selections. Furthermore if you are seem to have interests in wine, the sommelier is something that highly recommend. Finally, cookbooks are kept on offer as part of their souvenirs which the customers could purchase before leaving the restaurant. A true gem in New York City a perfect destination for very special occasions!

53rd & 6th Halal

Cuisine: Fast Food, Middle Eastern, Halal

Price: $5 – $10

A New York must for cheap eats, 53rd & 6th Halal is always faced with a line but not to worry, since it moves really quick and is worth the few minutes wait. Furthermore there is a good variety of Halal food from the food truck to choose from, and we also highly recommended you to try the gyro, chicken and rice, and the combo plate of chicken and lamb. Most of all their sauces are also widely on request, hence be sure to try either the mystery sauce or their white sauce. Finally the portions are huge which makes it even a sweeter deal for a delicious meal under 10 dollars.

Hummus Place Upper West Side

Cuisine: Lebanese, Mediterranean, Vegetarian, Middle Eastern, Vegan

Price: $20 – $40

A wonderful Lebanese find in Upper West Side. First of all Hummus Place is a small restaurant but most of all it offer a very warm and friendly staff. The restaurant serves customers from brunch until late night, and has wonderful recommendations for every meal throughout the day.
Falafel, Fries, Tabouli and Hummus, Labane Cheese, Pita Bread, yeast-free tortilla, eggplant sandwich, shakshuka, and also the Turkish coffee ranks highly in our recommendations. Hence making Hummus Place a definite restaurant to visit for well-priced and freshly served Lebanese.



Ilili

Cuisine: Lebanese, Mediterranean, Middle Eastern

Price: $50 – $100

Ilili is a New York premier contemporary Mediterranean restaurant that offers a menu inspired by Lebanese cuisine. It brings a mix between authentic dishes and modern Mediterranean influences that creates a marvelous culinary journey for the tastebuds and senses. The decor goes in hand with the Lebanese inspiration, and music is softly playing in the background at Ilili. The service is near perfection as the staff know exactly what you would like at the restaurant. The Hummus, Brussel Sprouts, Duck Shawarma, Kibbeh, Mixed Grilled and Grape Vine Leaves are the top picks to try at Ilili.

Aziza Cafe & Lounge

Cuisine: Hookah Bars, Lounges, Cafes

Price: $11 – $30

A tiny spot located in Greenwich Village, Aziza boasts a romantic and chilled atmosphere, accompanied by a matching chilled music playlist in the background. The place is relatively small and would fit a maximum of 20 visitors perhaps. The staff is quick and very welcoming. It has a reasonable price and provides various selection of shisha flavours and drinks. Food is not on offer at Aziza so it's highly advised to eat before visiting. The cluster of people gets high after dinner hours and is very popular with locals and tourists.



Layaly Cafe

Cuisine: Cafes, Hookah Bars, Lounges

Price: $11 – $30

Layaly Cafe is close by Steinway, and has a chill environment. They have indoors seating, but if the weather permits, the outdoor seating becomes available. The service is great, coals change without delay and the cafe uses disposable hoses for the shisha, which makes it great for the hygiene conscious. Watermelon and Mint flavour is very popular with the cafe's visitors. . Another wonderful spot to have a chill night out smoking shisha with friends.

Tisserie

Cuisine: Cafe, Breakfast

Price: $20 Average

Opposite the Wellington hotel and located next to Starbucks on 7th Ave, Tisserie is a great option to have breakfast in NYC. Tisserie serves fresh muffins and pastries that is absolutely delicious and suits a quick and convenient breakfast. Also, the bakery provides a variety of sandwiches and other items in the glass fridges to extend their offering . The coffee is great and could compete with its rival next door, even in terms of capacity, it's spacious and not as crowded. Service is friendly and fast, and the prices are reasonable. The quiche, sandwiches, pastries, and soft chunky cookies plus the nutella hot chocolate are options you cannot miss trying at Tisserie!

Ferrara Bakery & Cafe
Price: $5 – $10
Cuisine: Italian, Cafe
A great find in Little Italy just off Grand Street. Ferrara offers flavorful, scrumptious, and mouthwatering Italian Pastries. Upon entering, sight of colorful and designed Italian pastries that could pass for artwork is enough to convince its visitors that they have found the best bakery in Italy. The outdoor seating if the weather permits, and usually the cluster of people during the mornings and afternoons are high. However the wait is surely worth because of the endless ravings about the sublime coffee and the Italian pastries, cannoli, Italian cheesecake, biscotti, tiramisu, sfogliatelle, and the list continues. Furthermore they also serve high quality gelato which instantly reminds you of the authentic gelatos back in Italy. Hence Ferrara is a guilty pleasure that you will surely not regret!
If you're planning a trip soon, make sure to check our competitive rates for car rentals worldwide. Enter your details below, compare, choose and book!