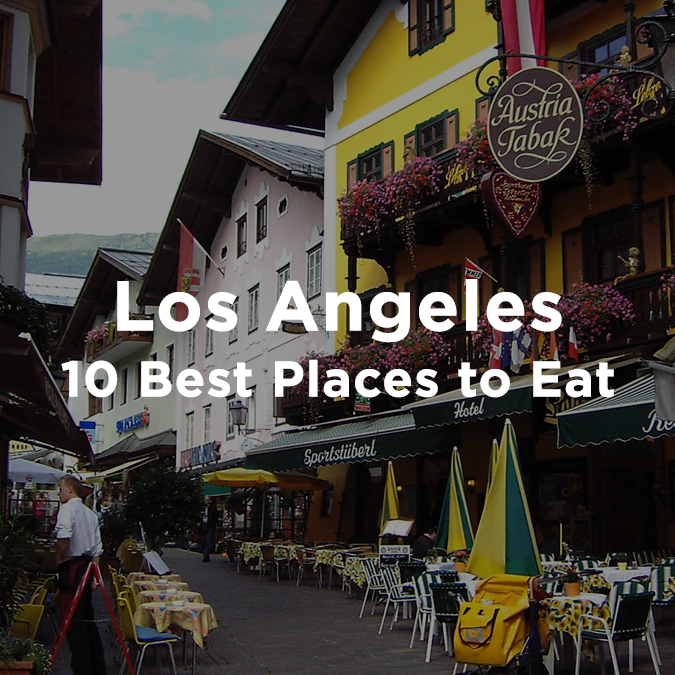 Widely acknowledged as one of the best foodie destinations in the United States, Los Angeles is no stranger to being very impressively diverse and exciting when it comes to its influential culinary scene.
L.A is a wonderful city that offers delectable and endless food options suitable for all preferences and taste buds, our list of 10 best places to eat in the City of Angels brings you the best food variety of what L.A. has to offer: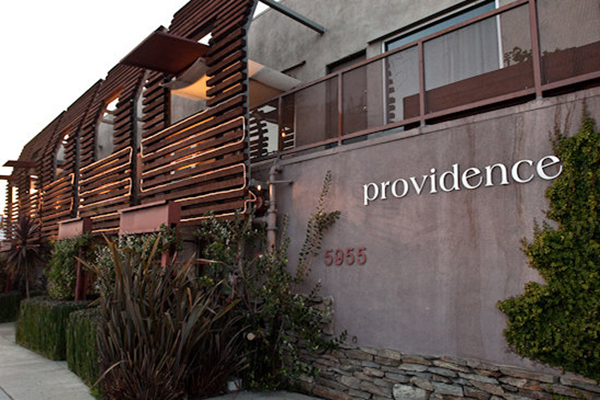 Providence

Cuisine: Seafood

Price: $42 – $80 Average

Located in Melrose Avenue, Providence is two Michelin Star rated restaurant renowned for serving the best seafood dishes in Los Angeles. Boasting a dimly lit dining ambience, and boasts innovative and modern cuisine. Providence is on the expensive side of price range but it promises excellent value for the charges with its terrific food and impeccable service.


Providence has a Seasonal and Signature menu to choose from, which both are what we recommend you go with. They also provide different evening specials throughout the week, the Uni Egg was terrific and is a must try if it is available on the menu. The staff are well trained, and are highly knowledgeable of the menu.

The restaurant provides an excellent setting, making it an ideal choice not only for couples, but for larger groups as well. A memorable dining experience awaits at Providence.


Craft LA

Cuisine: American, Gluten-Free

Price: $50 – $100

A signature local fine dining eatery close by to Century City and Constellation boulevard that serves breakfast, lunch, dinner and late night meals with an ambience that is very modern, chic and classy. Craft LA serves a fresh selection of fish and steaks.

The Dine LA menu costs 45$ per head, and it was the favourite menu of choice. The selection of appetizers were very delicious and their salads are in large portions that can be shared with 2 people. The recommended main course dishes would either be Scallops or the Salmon dish, and for dessert it is best to opt for the olive cake chocolate mousse or the s'mores.
Craft LA is ideal for romantic dining, special occasions and dining in large groups.


Ta-eem Grill

Cuisine: Mediterranean, Vegetarian, Middle Eastern, Lebanese, Israeli

Price: $20 Average

Ta-eem is a popular restaurant with locals and tourists to grab a quick bite from local Israeli cuisine that is kosher, and also carries similarities to Lebanese cuisine, which makes it an ideal choice if you are feeling like eating Lebanese food in LA. The portions are huge, which makes it a good option to eat in groups for proper value for money. During peak meal times, it is not unusual to wait in a queue to be seated due to its popularity.


The chicken laffa, baba, shakshuka, shawarma and salads are great choices. The shawarma is juicy and tender, and the falafel is a good selection as it is moist on the inside and has the perfect crunch on the outside with intense flavour.

Ta-eem is great if you're looking to eat filling Middle Eastern food on a budget.


The Hummus Bar & Grill

Cuisine: Mediterranean, Vegetarian, Middle Eastern, Kosher, Israeli, Lebanese

Price: $11 – $21

Another popular Mediterranean/Middle-Eastern restaurant in L.A., The Hummus Bar & Grill can be found on Ventura Boulevard at the Tarzana Village Shopping Center. Always a great choice for affordable lunch or dinner, treat yourself to their fresh salads with freshly baked pita bread, and the hummus selections such as the hummus with ground meat and pine nuts, which is sublime; a must order at the restaurant. For main dishes, you can never go wrong with the kabobs in either beef or lamb and the chicken skewers.

Like most Middle-Eastern restaurants, the portions are large and are ideal for sharing. They also serve variety dishes in their desserts, an example would be the Moroccan sfinge (deep fried sugar coated donuts), which also comes in greatly sized portions. The staff are friendly and offer terrific recommendations and are great with identifying your preferences.


The Candy Bar Hookah Shoppe

Cuisine: Hookah Bars, Tobacco Shops, Vape Shops

Price: $25 Average

The Candy Bar Hookah Shoppe is one of the few places in Los Angeles that provides excellent and premium shisha in various flavours from brands such as Al Fakhr and Starbuzz. The ambience is very relaxed with chilled music playing the background which makes it great for hangouts with friends, or just time to yourself to enjoy a great shisha at peace. The staff are friendly and are well knowledgeable with shisha which makes them extremely helpful. The cotton candy mix, and lemon mint flavour is highly recommended. What makes The Candy Bar also popular with visitors is that they serve complimentary tea, coffee and water. They also sell their own mixes for Shisha that you could take along with you.


Ali Mama Cafe

Cuisine: Coffee & Tea, Hookah Bars

Price: $3 – $10

A welcoming spot to smoke shisha with friends on Sunset Boulevard, Ali Mama Cafe provides you great service and great shisha with affordable prices. There is an array of flavours to choose from at the cafe, and you can either choose to sit in a cozy setting indoors or enjoy the fresh air at their patio outdoor seating. The Irish Peach flavour is highly recommended, and its good to keep in mind they charge for 1 drink minimum or you will need to pay $3 as a cover charge. They also serve great turkish coffee to go along with your shisha and you can have it infused with other flavours such as cardamom or lavender. They have a great selection of complimentary board games indoors if you're up for a good time with friends.


The Cheesecake Factory

Cuisine: Italian, American

Price: $20 – $100

The Cheesecake Factory is a famous restaurant/bakery at the Grove that holds a very legendary status. The home of cheesecake in Los Angeles still remains on top of the locals lists (as well as tourists) for the best cheesecake to indulge in. Other than cheesecakes, The Cheesecake Factory serves main courses for breakfast, lunch and dinner! However, we'd like to keep the focus on strictly the cheesecake which has its own menu with a very wide range of varieties, which will definitely make your choice is a difficult one from all the amazing flavours The Cheesecake Factory offers.

There is always a waiting list, given its very high popularity that has stemmed from over the years. The portions served as per usual are huge so this is a great spot for family and friends.

Ofcourse, it goes without saying the first cheesecake we'd recommend is the Original
Cheesecake which is their famous creamy cheesecake with a graham cracker crust and sour cream topping. Other amazing flavours to try out include, Fresh Strawberry, Hersheys Chocolate Bar, Ultimate Red Velvet Cake, Reeses Peanut Butter Chocolate Cake, Godiva Chocolate, White Chocolate Raspberry Truffle, Mango Key Lime Cheesecake, Fresh Banana Cream, White Chocolate Caramel Macadamia Nut
Lemon Raspberry Cream Cheesecake and the list goes on. Believe it or not, they also have low-carb options for those who would like to indulge themselves without the guilt.
The Cheesecake Factory is a Los Angeles food landmark, and is a must on every tourist's food list when in L.A.!


Milk

Cuisine: American – Bakery

Price: $10 – $25

One of the finest bakery and dessert places on Beverly Boulevard, Milk has always had a fine reputation for serving the best ice creams, hence it is notably busy throughout the day, but the service is quick which does not make that an issue at all. Also the design is so spacious and clean, plus you get a nice view of the kitchen where you can see the baked goods freshly prepared!


Milk's offerings does not stop at ice creams, the bakery also serves the softest and richest cookies you will ever taste, scrumptious cupcakes, milkshakes, and other delectable desserts you can think of!

The Fruity Pebbles ice cream sandwich is a hit with visitors, so is the Macaroon, coffee toffee, and coconut flavour. Also, we highly recommend the hot brownies sundae, Blue Velvet Cake with ice cream, and Strawberry Sorbet! The L.A. summer can be quite hot, so stop by Milk to cool off with very enjoyable sweet treats for you and your companions!


The Griddle Cafe

Cuisine: American, Cafe

Price: $ 25 Average

The Griddle Cafe has appeared on many recommendations list on various magazines and websites when it comes to eating in Los Angeles, and there is quite a good reason it holds such a high standard. Located on Sunset Boulevard, The Griddle Cafe is always busy and bustling with visitors walking in and out throughout the day because they have proven to be the cafe that serves the best french toast and pancakes in Los Angeles, as well as fantastic coffee.


Bear in mind when ordering from The Griddle Cafe, the portions of the pancakes are notably huge and it is recommended for sharing, unless you have a massive craving for pancakes, then definitely it would be a dish to indulge in. It is open up to 4 pm so it does not serve evening snacks or dinners. It is reasonably priced which makes it good if you are on a budget.

The dishes to try from The Griddle Cafe's menu would be the French Toast served with real butter and maple syrup, Waffles, Red Velvet pancake if you're feeling like having something sweet, and Eggs Benedict. For pancakes, we recommend the banana, cinnamon and nutty pancakes. And finally for drinks, the mocha, coffee which is French Press with your choice of roast. You'll be coming back again after trying out The Griddle Cafe, definitely a must-visit!

Joan's on Third

Cuisine: American, Cafe

Price: $30 Average


Just like it's name, Joan's on Third is located in the 3rd street in LA, and is a very hip cafe that is both popular with locals and Hollywood celebrities. Joan's on Third's menu mainly comprises of local American breakfast dishes and a few sandwich options to suit lunch and dinner. However, we feel it is ideal only for breakfast, brunch and lunch.

Upon entering Joan's, you'll come across their fresh, light and beautiful decor, and you can also opt to sit in their outdoor patio, which is the perfect spot if you want to have the view of the busy street, and possibly sight a Hollywood star making their way through the area. If you're too rushed to eat in, they also provide prepackaged food which is perfect if you need to have your meal on the go.

The avocado toast with a fried egg on top, the granola, the corn beef hash, and the pancakes (which come in huge portions) are our favourite breakfast selections. As for drinks, the iced coffee, regular coffee and various tea selections stay on top of our recommendations list.  It can be a bit costly for an American cafe, and there might be waiting lines as well, but Joan's on Third is definitely part of the L.A. food experience and the delicious dishes will prove to be worth your time and your money.
If you're planning a trip soon, make sure to check our competitive rates for car rentals worldwide. Enter your details below, compare, choose and book!